Rice Pudding recipe with coconut milk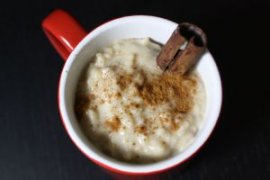 By Freya Bellin
It is difficult to be patient with the aroma of coconut milk slowly simmering in the oven, but patience is both required and rewarded by this rice pudding. I love the idea of using brown rice in this recipe. It's healthier, for one, and adds a nuttiness and texture that you can't get from white rice. The coconut milk makes the pudding rich, a little exotic, and much more flavorful than regular milk would. I used light coconut milk, which is pretty drastically lower in fat than the regular kind, and it was still quite rich. The single cinnamon stick I used made a huge flavor impact, proving that a little seasoning can go a long way.
Watching the pudding cook, it looked like soup for most of the cook time, and then seemingly suddenly looked more like rice, so don't be discouraged if it seems to be taking a while for the rice to absorb the liquid. I couldn't resist eating some straight out of the oven, and while it does thicken up nicely when it cools, I enjoyed it most while warm, with raisins tossed in at the end. Recipe from The Food Matters Cookbook.
Coconut and Brown Rice Pudding
Makes: 4 servings
Time: About 2 1⁄2 hours, largely unattended
To make a really luscious brown rice pudding you have to break the grains up a bit in the food processor so they'll release their thickening starches; it works. I use coconut milk here, but you can substitute cow's milk for some or all of the liquid. See the sidebar for some ideas about stir-ins and garnishes. If you want a thicker pudding, veer toward the high end of the rice quantities listed below.
1⁄3 to 1⁄2 cup long-grain brown rice
Two 14-ounce cans coconut milk
1⁄2 cup brown sugar
Pinch of salt
A cinnamon stick, a few cardamom pods, a split vanilla bean, a pinch of saffron, or other flavoring, optional
1. Heat the oven to 300°F. Put the rice in a food processor and pulse a few times to break the grains up a bit and scratch their hulls; don't overdo it, or you'll pulverize them.
2. Put all the ingredients in a 2-quart ovenproof pot or Dutch oven. Stir a couple of times and put the pan in the oven, uncovered. Cook for 45 minutes, then stir. Cook for 45 minutes more, and stir again. At this point the milk will have darkened a bit and should be bubbling, and the rice will have begun to swell.
3. Cook for 30 minutes more. The milk will be even darker, and the pudding will start to look more like rice than milk. It's almost done. Return the mixture to the oven and check every 10 minutes, stirring gently each time you check.
4. It might (but probably won't) take as long as 30 minutes more for the pudding to be ready. Just trust your instincts and remove the pudding from the oven when it is still soupy; it will thicken a lot as it cools. (If you overcook the pudding, it will become fairly hard though still quite good to eat.) Remove the whole spices if you used them. Serve the pudding warm, at room temperature, or cold, alone or with your favorite topping.
More
Organic Chinese Black Rice - 1 lb by OliveNation


Grocery (OliveNation)




Organic Chinese Black Rice is also known as the Emperorâ€TMs Rice or forbidden rice
Because of its deep black color, chewy texture and distinctive nutty flavor, this heirloom grain was so rare that it was reserved for emperors only
Popular in China, Indonesia and Thailand, Chinese black rice is high in fiber and rich in iron and amino acids
Chinese Black Rice turns to a rich deep purple when cooked, making it a striking choice when used in salads, desserts and in recipes like Cashew Chicken and Black...
Cook black rice with coconut milk and sugar to make a beautiful and unique rice pudding, garnish with fresh mango and kiwi. Keep Chinese Black Rice in your pantry...