Rice Pudding Recipes coconut milk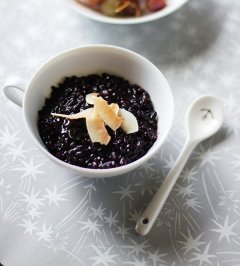 When I was young, I wanted nothing to do with the desserts my father brought home from our monthly trips to the Thai market in the city: gray griddled discs of taro root and coconut, round pancakes filled with coconut cream, and layered pink jellies flavored, disappointingly, with coconut.
Well, times have changed. Now I'm the coconut fiend and the traditional Thai dessert kao neow dahm is my favorite way to get my fix at home. Made with sticky whole grain black rice, coconut milk and toasted coconut, this warm rice pudding is creamy, sweet, a little savory, and very coconutty. It's also dairy-free and gluten-free, making it a great dessert — or breakfast — for almost any guest.
Thai black rice is a type of whole grain glutinous rice usually eaten in Thailand for dessert. Unlike Chinese black rice, also known as forbidden rice, black rice from Thailand is variegated in color, with a nutty taste and sticky texture when cooked.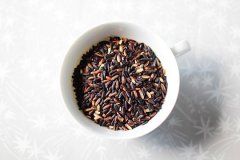 Sticky rice is usually soaked overnight and steamed, but in this preparation, it is simply boiled in water and coconut milk for 45 minutes, until the grains are soft but still pleasantly chewy.
You can find Thai black rice at Asian markets or Whole Foods, where it may be labeled "black sticky rice, " "black glutinous rice" or just "black rice." (You can also find it online here.) Chinese black rice can be substituted, though the texture is a little different.
Although the pudding is traditionally prepared with full-fat coconut milk, I've found that light coconut milk works just as well, producing a lighter dish that also makes a satisfying breakfast. If you're a fan of Thai mango and sticky rice, you can also serve it with sliced ripe mango, but it isn't necessary. This particular pudding is all about the coconut, which is how we coconut fiends like it.
Coconut Black Rice Pudding
Makes 4-6 servings
2 - 2 1/2 cups water
1 cup Thai black rice
1 cup light coconut milk
1/4 cup unsweetened coconut flakes
3 tablespoons brown sugar
1/2 teaspoon salt
In a medium saucepan, mix 2 cups water, rice and coconut milk, and bring to a boil over medium-high heat. Reduce heat and simmer uncovered for 45 minutes or until rice is tender, stirring occasionally. During the last 10 minutes of cooking, make sure to keep a close eye, adding extra water, 1/4 cup at a time, if the rice gets too dry.
Meanwhile, toast the coconut. Preheat the oven to 350°F. Place the coconut on a baking sheet and bake for 5 minutes or until golden-brown, stirring once during baking.
When the rice is tender, add the sugar and salt. Simmer for a couple more minutes, or until pudding is desired texture. (Add a little more water for a looser pudding; let cook several more minutes for a drier pudding.) Taste and adjust seasoning. Spoon into individual bowls, top with toasted coconut flakes, and serve.
Additional Notes
• When making this pudding for breakfast, I only use 2 tablespoons of sugar for a less sweet version.
More