Recipe for coconut milk ice cream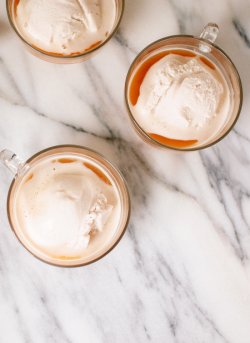 Hello from Minneapolis! I'm in town with King Arthur Flour's Bake For Good Tour. Yesterday, Susan taught us how to bake yeasted bread and pies (my first pie ever!) in the culinary classrooms at the art institute. The scales and measuring cups reminded me of my college chemistry classes. This time, though, I got to taste our experiments at the end of the day. Needless to say that I paid a lot more attention yesterday.
Today we will be serving a full meal (along with our bread and pie) to families at the Family Service Center.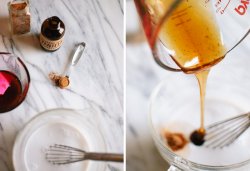 Most of the food that I prepare is only shared over the world wide web, so I'm very much looking forward to serving food in real time this afternoon.
This chai tea affogato would be a really fun dessert to share with your loved ones. The concept came to me a few weeks ago while answering emails at a local coffee shop recently. I ordered a chai tea latte upon arrival and quickly thereafter requested an affogato (because how often do you see affogatos on coffee shop menus?).
Traditional Italian affogato is espresso poured over a small scoop of vanilla ice cream. I was thunderstruck by the combination of super strong, hot coffee poured over creamy, cold ice cream. It's as delightful as a hot fudge sundae, but not so decadent that it leaves you with a stomachache.
I went to the trouble of making my favorite honey-sweetened coconut milk ice cream for my affogatos, but I won't blink twice if you pour strong tea over your favorite vanilla ice cream. Dessert is ready.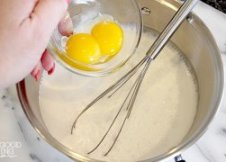 Author: Cookie and Kate
Recipe type: Dessert
Serves: 8
Strong, spiced chai tea poured over rich, honey-sweetened ice cream makes a beautiful hot-and-cold dessert. The creamy homemade coconut milk ice cream is dairy free and egg free. For a super simple treat, buy a quality vanilla ice cream and pour extra-strong, freshly brewed chai tea over it.
Ingredients
Honey-Sweetened Coconut Milk Ice Cream (yields 8 small scoops of ice cream)
2 cans (14 ounces each) full fat coconut milk
⅔ cup honey
⅔ cup water
1 teaspoon pure vanilla extract
½ teaspoon cinnamon
Dash fine grain sea salt
Strong chai tea (use 4 tea bags per 1 cup water, which yields enough tea for 4 small servings)
8 spiced chai tea bags
2 cups water
Instructions
In a Dutch oven or a big, heavy-bottomed pot, combine the coconut milk, honey, water, vanilla, cinnamon and salt. Bring to a gentle simmer over medium heat while whisking often. While the mixture warms up, whisk the arrowroot starch with a couple tablespoons of the coconut milk mixture in a small bowl until thoroughly incorporated and no lumps remain.
Once the coconut milk mixture reaches a gentle simmer, pour the arrowroot mixture into the pot and simmer, whisking constantly, for one minute. Remove from heat, let cool to room temperature, then place the bowl in the refrigerator until the mixture is completely and thoroughly chilled.
Before you start your ice cream maker, place your future ice cream container in the freezer to chill. Use a spoon to scoop off the thickened top layer of ice cream and discard it. Whisk together the chilled mixture in case the honey has separated from the rest. Pour the mixture into your ice cream maker and freeze according to your manufacturer's instructions, then transfer it to your chilled container. Freeze for several hours.
When you're ready for dessert, bring 2 cups water to a boil and pour the water over 8 chai tea bags. Steep for 4 minutes, then remove the bags (squeeze out some of the water they have absorbed). Scoop your ice cream into small bowls, then pour hot tea into the bowls. Serve immediately!
Notes
I like Numi's organic chai tea and Trader Joe's chai tea.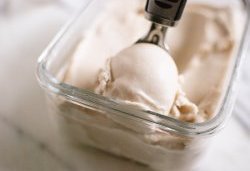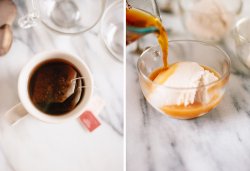 More
U.S. Army Medical Correspondence Course: Dairy - Milk, Cream, Fresh Dairy, Yogurt, Homogenization, Pasteurization, Raw Milk, Cheese, Ice Cream, Butter, Manufactured Products
eBooks (Progressive Management)