Recipe for almond milk ice cream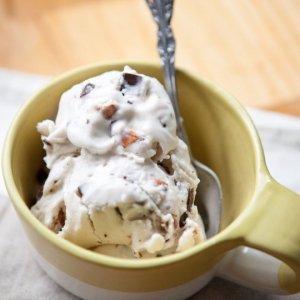 I fondly remember the days when Ben & Jerry's made Coconut Almond Fudge ice cream by the pint — my parents would buy it and hide it towards the back of the freezer so we wouldn't know it was there, but I'd always manage to tuck into it quietly and slowly so they wouldn't notice. When Ben & Jerry's discontinued it, I eventually discovered a natural foods brand made with coconut milk, but it just wasn't quite as velvety and delicious.
So imagine my delight when I was at our local scoop shop here in Seattle the other day and stumbled across a Vegan Coconut Almond Chip ice cream that was spot-on. I devoured my cone, asked a lot of questions, and came home to experiment in our kitchen.
In truth, I'd planned for this to be a vegan ice cream recipe but the sweetener I ended up liking best was honey — so I realize that many vegans will want to use a different sweetener here and I've suggested agave as a good substitute. Evaporated cane juice would work just fine, too, as would maple syrup, although I'm not so sure I'd love the darker flavor of the latter in this particular flavor. Let me know if you use something else that you love!
Because I wanted this to be a vegan ice cream, I also avoided eggs and chose cornstarch as my thickening agent instead of making a more traditional egg-based custard. A lot of vegan ice creams you see out there will either use arrowroot, cornstarch or tapioca — cornstarch is just what I had on hand. I know some people are fearful that it will impart a chalky flavor to ice creams or puddings, but I never find this to be the case. Also, without some kind of thickener, I think you will have frosty, icy ice cream instead of smooth, creamy ice cream, so definitely don't skip it.
When shopping for coconut milk for this recipe, you really do want to go with full-fat coconut milk (avoid the "lite" options) and read the labels carefully. Avoid a product called Coconut Cream as it's really not the same thing.
After making my first batch, I truly was thinking that we may never buy ice cream again. It is really, really delightful. We're almost done with this batch, so I have a feeling another will be in the near future for the weekend. As with most ice cream recipes, the mix-ins are certainly adaptable: if you like, say, another kind of chopped nut and white chocolate instead of dark, go to town. If you want to forego the nuts altogether and mix in little bits of chocolate cookie or stream in a shot of chilled espresso, be my guest.
For me, if I close my eyes, this flavor combination allows me to trick my senses into thinking that maybe sunny, warm days are nearer than they seem at this very moment in January. Enjoy!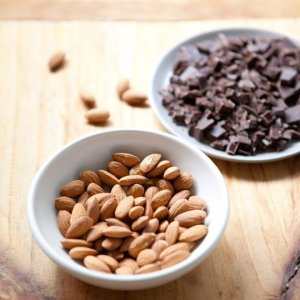 Vegan Coconut Almond Chocolate Chip Ice Cream
Serves 4
2 (15-ounce) cans full-fat coconut milk
1/2 cup honey or agave nectar
1/4 teaspoon kosher salt
2 tablespoons cornstarch
1 1/2 teaspoons vanilla extract
3 ounces (85 grams) raw almonds (about 1/2 cup), coarsely chopped
3 ounces dark chocolate chunks or chips (about 3/4 cup)
Shake the cans of coconut milk thoroughly before opening. Scoop out 1/2 cup of coconut milk and set it aside. Combine the remaining coconut milk, agave or honey and salt in a saucepan. Bring to a simmer over medium-low heat until the sweetener thins and is easily mixed into the coconut milk, about 2 minutes.
In a small bowl, whisk remaining 1/2 cup coconut milk with the cornstarch until well combined. Stir into the warm coconut milk base and cook until over medium heat until the mixture begins to thicken — enough so that it coats the back of a spoon, 6 to 8 minutes. Do not to allow the mixture to boil.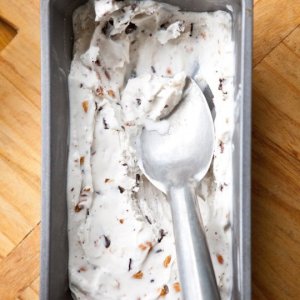 Whisk in the vanilla extract.
Remove from the heat and pour the coconut base into a separate bowl. Allow to cool on the counter for 30 minutes, then cover with plastic wrap and chill in the refrigerator for 4 to 5 hours — you need the base to be very cold before you process it in the ice cream machine.
Churn the mixture in your ice cream machine following the manufacturer's instructions. Add the chopped almonds and chocolate chunks at the very end. When thickened to an soft-serve ice cream consistency, spread into a large loaf pan (or pie pan) and freeze for a few more hours (or overnight) until the ice cream has firmed up completely.
Recipe Notes
Remember to freeze your ice cream bowl overnight!

Coconut milk separates into a fatty layer and a thin watery layer in the can. Before using it, recombine these layers by shaking the cans thoroughly before opening. You can also chill the coconut milk in the fridge for a few hours.

You really do need to chill your base for a good 4 to 5 hours to cool it down completely before pouring it into your ice cream machine — so plan accordingly.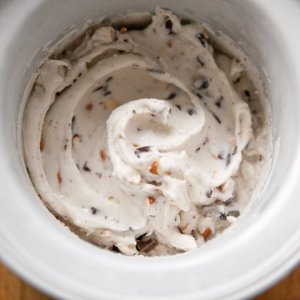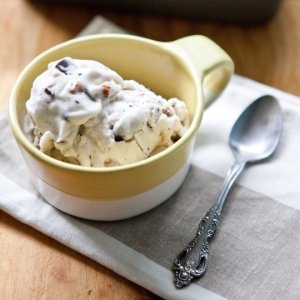 U.S. Army Medical Correspondence Course: Dairy - Milk, Cream, Fresh Dairy, Yogurt, Homogenization, Pasteurization, Raw Milk, Cheese, Ice Cream, Butter, Manufactured Products
eBooks (Progressive Management)