Easy creamy Fudge recipe condensed milk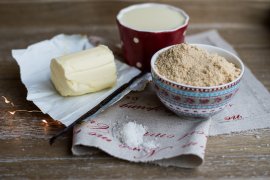 It's coming up to the most wonderful time of the year, and that means you've got to start thinking about presents. Giving a homemade gift can be thoughtful, fun to make and get you in the Christmas spirit too.
There are two things that I love making as Christmas gifts, or even as a simple thank you gift throughout the year: chocolate truffles and creamy fudge. If I had to pick one recipe, however, I'd go with the fudge, without a doubt. Creamy fudge always takes me back to my childhood – I would always seek out the fudge in a box of chocolates, and on holiday by the British seaside we would buy packets of local fudge instead of sickly-sweet rock. Crumbly and caramel-like in flavour, fudge is a wonderful sweet treat and, with a little practice, it's simple to make too.
Fudge is generally made with three main ingredients – milk, butter and sugar. Often, you'll find flavourings such as vanilla too. In my recipe, I use both vanilla pod seeds and sea salt. You can find varieties made with clotted cream (in the case of fudge from Devon or Cornwall) or condensed milk, and I've even seen a recipe that includes marshmallows! I also used to eat a lot of little individually wrapped Polish candies, called Krówki, or "little cows", which are very similar in flavour and texture to the recipe that I use below.
The version I've had the most success with at home, without a thermometer, includes condensed milk, which usually comes in a jar or can of 397g, or 14 ounces. When it comes to salting your fudge, use only the best sea salt you can find. I like to use a Slovenian salt called Piranske Soline, derived from the Adriatic Sea.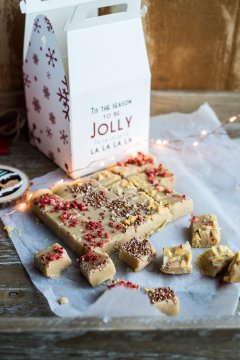 Merry Christmas and Happy Holidays!
Ingredients
1 x 397g can condensed milk
80g unsalted butter
150g soft, light brown sugar
One whole vanilla pod
A good pinch of sea salt
To decorate/flavour
Freeze-dried strawberries
Crushed honeycomb
Edible bronze sugar pieces or other sugar-coated sprinkles
Method
Line a 20cm square tin with baking parchment. Place a glass of ice-cold water nearby, which you will use later to test the fudge.
In a large, non-stick, wide-bottomed pan, add the condensed milk, butter and soft brown sugar. Slice the vanilla pod in half lengthways, and use the tip of a knife to scrape out the seeds. Add the vanilla seeds to the mixture.
Melt these ingredients over a medium heat, using a wooden spoon to stir until the sugar has dissolved. Make sure the sugar doesn't catch on the bottom of the pan – if it does, turn down your heat a touch.
Next, carefully bring the mixture to a rolling boil. Take care because the mixture will be extremely hot. Stir it constantly for around ten minutes.
Test the fudge by dropping a small amount of the mixture into the cold water. You are looking for the fudge to drop to the bottom of the glass and form a round tear shape or ball. This is called the soft ball stage. If you have a thermometer, the mixture should have reached 113ºC (236ºF).
Take the pan off the heat, add a good pinch of sea salt (about half a teaspoon) and leave it to cool for a few minutes. Then, using the wooden spoon again, stir the mixture vigorously until it begins to firm up a little – for about five to eight minutes.
Very carefully, pour the mixture into your lined tin and smooth out with the back of a metal spoon. Sprinkle over your chosen toppings and push them down into the fudge slightly.
Leave the fudge to cool at room temperature for a couple of hours, and then chop into pieces using a sharp knife.
Once your fudge has cooled and you've chopped it into pieces, eat a bit, and then bag it up to give as a gift!
The fudge will keep for 2-3 weeks, so it's best to make it as close to giving it as possible. To store the fudge, keep it in a zip-seal plastic sandwich bag, or in a sandwich container with a tight fitting lid and then transfer it into your gift container or box when you are ready to give it as a gift. Jam jars (sterilised) are a good alternative, too.
More
ORGANIC PROTEIN POWDER Plant-Based (Fair Trade Creamy Chocolate Fudge) by MARYRUTH - Vegan, Gluten Free, Non-GMO, Soy Free, Dairy Free, Nut Free, No Fillers, No Additives, Paleo Friendly 16.3 oz


Grocery (MaryRuth Organics)




CREAMY CHOCOLATE FUDGE: Tastes Exactly Like Chocolate! For Children, Teenagers, and Adults! Excellent tasting in smoothies and baking. MaryRuth Organics is known...
NO fillers, NO binders, NO additives, NO whey, NO grains, NO soy, NO dairy, GLUTEN FREE, VEGAN, PALEO FRIENDLY, CERTIFIED ORGANIC
16.3 Oz. Excellent Taste. Made of ONLY 6 of the highest purity ingredients. CERTIFIED USDA ORGANIC and FAIR TRADE ingredients.
Made from 100% Organic Pumpkin Seeds. Other Ingredients: organic cane sugar, organic fair trade cocoa powder, organic natural chocolate flavor, organic natural vanilla...
Contains 14g of protein per serving ( to support lean body mass and healthy body. Highly digestible. Excellent source of protein.