Easy Caramel Fudge recipe condensed milk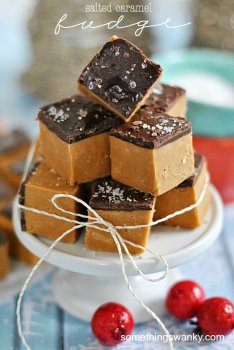 sweetened condensed milk boiled to the point of becoming caramel-like) in place of the SCM! I had no idea if this would actually work, but I am SO glad it did because…

2) It's DIVINE. It's part caramel, part fudge and 100% amazing.

Be warned: if you make this fudge, people will become your friend for the sole reason of getting their mitts on it! (And because you're a fabulous person, I'm sure :)

Easy Salted Caramel Fudge

Ingredients
14 ounces Dulce de Leche*
3 cups white chocolate or white candy melts**
1 cup milk or dark chocolate morsels
a pinch or two of coarse sea salt
Instructions
Prepare an 8x8 or 9x9 baking dish by lining it with foil or parchment. Lightly spray the lining with a non stick cooking spray.
Over low heat, melt the white chocolate. Once white chocolate is smooth and completely melted, mix in the dulce de leche and a pinch of sea salt until completely incorporated. Mixture will be thick.
Pour mixture into prepared baking dish and smooth into an even layer with a rubber spatula.
Melt the milk chocolate morsels in the microwave (about 45-60 seconds of heating). Pour the melted chocolate over the fudge and spread evenly. Sprinkle with a pinch of sea salt.
Let cool completely at room temperature for 3-4 hours (you can speed set in the fridge for about 30 minutes to an hour, but expect condensation on the fudge if you try to serve it at room temperature.
Cut into 1 inch pieces to serve.
Notes
*This can be found in the Hispanic food aisle. OR you could boil a 14 ounce can of sweetened condensed milk for 3 hours and let cool completely.
**I prefer candy melts. You can heat candy melts at a higher temperature than white chocolate, which speeds up the process a bit and ensures a smoother melted product. White chocolate works just as well, but you'll need to melt it MUCH slower to avoid seizing or burning, never increasing the heat from LOW.
3.1
Latest posts by Ashton
Yum
More
ORGANIC PROTEIN POWDER Plant-Based (Fair Trade Creamy Chocolate Fudge) by MARYRUTH - Vegan, Gluten Free, Non-GMO, Soy Free, Dairy Free, Nut Free, No Fillers, No Additives, Paleo Friendly 16.3 oz


Grocery (MaryRuth Organics)




CREAMY CHOCOLATE FUDGE: Tastes Exactly Like Chocolate! For Children, Teenagers, and Adults! Excellent tasting in smoothies and baking. MaryRuth Organics is known...
NO fillers, NO binders, NO additives, NO whey, NO grains, NO soy, NO dairy, GLUTEN FREE, VEGAN, PALEO FRIENDLY, CERTIFIED ORGANIC
16.3 Oz. Excellent Taste. Made of ONLY 6 of the highest purity ingredients. CERTIFIED USDA ORGANIC and FAIR TRADE ingredients.
Made from 100% Organic Pumpkin Seeds. Other Ingredients: organic cane sugar, organic fair trade cocoa powder, organic natural chocolate flavor, organic natural vanilla...
Contains 14g of protein per serving ( to support lean body mass and healthy body. Highly digestible. Excellent source of protein.