Lemon coconut slice recipe condensed milk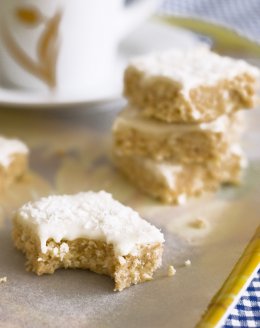 Sometimes you want something quick, sweet and easy without firing up the oven. Especially here at the moment, where the temperature is hitting 40 degrees Celsius. Eww. I know Australians are supposed to be excited by that and go frolicking on the beach, but I hate the heat outdoors. The fair-skinned European in me just wants to hibernate in front of the air-con, spraying mists of water, sucking ice-cubes and thinking cool thoughts.
Speaking of cool, this was one of my favourite recipes to make as a kid. I'm sure it's the immense joy in bashing a packet of biscuits to crumb-y smithereens with a rolling pin. And even more joy in stirring lots of butter and sticky condensed milk through it all. Super-naughty. If you want an easy introduction to baking for kids (or adults), this is it. The only close supervision part would be melting butter. Otherwise, it's very foolproof!
When done you get a cool refrigerated cookie-slice, with a zingy lemon icing. Now, I'm clearing out a backlog of recipes before starting on new ones, so these last few don't have video instructions or weights with the ingredients unfortunately. The cup measurements are 1 cup = 250 ml, and the original recipe is Australian, so if you're in the US, there are extra conversions to apply.
Happy baking!
Makes 20-24 squares
1/2 cup Sweetened condensed milk
125 g Unsalted Butter
250 g Packet Milk Arrowroot biscuits, finely crushed
1 teaspoon Grated Lemon Rind
1 cup Dessicated Coconut
Icing:
1 3/4 cups Icing Sugar Mixture (or more, depending on desired thickness)
3 tablespoons Fresh Lemon Juice
15 g Unsalted Butter
2 tablespoons Dessicated Coconut
DIRECTIONS:
Place condensed milk and butter in a small saucepan, stirring over low heat until butter has melted and mixture is combined. (optional: lick the condensed milk container, yum!)
Break the packet of biscuits down into fine crumbs. You can do this in batches in a food processor, OR go low-tech and place a handful of biscuits in a zip-lock bag, then whack them hard with a rolling pin. Repeat. Enjoy.
In a large bowl, mix the crushed biscuits, lemon rind and coconut. Pour in the melted butter and condensed milk mixture. Mix together well until the biscuit crumbs are evenly coated. Don't worry if the mixture looks dry, it will come together.
With clean hands firmly press the mixture into a 28cm x 18cm baking tin lined with baking paper. Refrigerate for 1 hour.
Prepare the lemon icing by adding the icing sugar, lemon juice and softened butter into a medium bowl. Mix well to form a smooth icing. When the slice is cool, pour icing over the top and sprinkle with coconut. Once icing has set, cut the slice into squares.
Keep slice in the fridge.
Recipe is adapted from The Big Book of Beautiful Biscuits (published by Australian Women's Weekly)
| | | |
| --- | --- | --- |
| No-bake Lemon Coconut Slice | | |
Recipe type: Baking
Author:
Prep time: 20 mins
Cook time: 2 hours
Total time: 2 hours 20 mins
Serves: 20-24
Easy recipe for no-bake lemon coconut slice
1/2 cup Sweetened condensed milk

125 g Unsalted Butter

250 g Packet Milk Arrowroot biscuits, finely crushed

1 teaspoon Grated Lemon Rind

1 cup Dessicated Coconut

ICING:

1 3/4 cups Icing Sugar Mixture (or more, depending on desired thickness)

3 tablespoons Fresh Lemon Juice

15 g Unsalted Butter
More
Roland Korma Curry Sauce, 70 Ounce


Grocery (American Roland Food Corp.)




This curry sauce is convenient for the at home chef who doesn t have time to make his or her own curry sauce from scratch
A classic north Indian dish made with Greek yogurt, ginger, coconut milk, whole black cardamoms and coriander
Korma curry sauce is mild and yellow in color
Popular Q&A
tgi fridays coconut jasmine rice recipe? | Yahoo Answers
go to their website or ask TGI Fridays..sometimes they will let you have recipes, sometimes they won't.