Brown sugar Fudge recipe condensed milk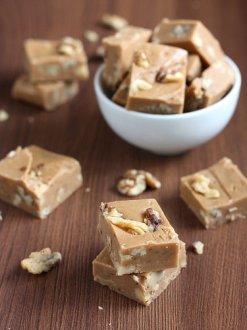 An old-fashioned fudge recipe with the flavor of caramel and a little crunch of toasted walnuts.
Who doesn't like fudge? I'm willing to bet that no one out there is raising their hand in answer to that question. Chocolate is the clear frontrunner when it comes to fudge, no doubt about that, but the runner-up flavor is hands down this brown sugar fudge.
It's smooth, it's tooth-achingly sweet, and it's got a smoky caramel flavor that you're sure to love.
The walnuts are optional, but I highly recommend them. And you're going to need a candy thermometer for this old-fashioned recipe, but don't let that scare you away. Candy thermometers are actually super awesome, because they tell you exactly when to move on to the next step. No ambiguity! So face your fears, fudge is worth it.
One last thing, one little piece of fudge goes a long way, but it's hard to stop munching once you start so be sure you have a plan in place when you pull this recipe out of the fridge. I've already consumed about two-thirds of this batch all by myself. Send help. And call my dentist.
Using Evaporated Milk in Fudge
Evaporated milk is milk that has been cooked to reduce its water content. It is more stable than regular milk and it can be cooked at high temperatures without curdling, a real benefit to fudge. Unfortunately, there is no substitute for it in a fudge recipe. While you can use evaporated milk in place of regular milk in many circumstances, the same is not true in reverse. Also, be sure you do not confuse evaporated milk and sweetened condensed milk, as they are two entirely different products.
Brown Sugar Fudge
An old-fashioned fudge recipe with the flavor of caramel and a little crunch of toasted walnuts.
Ingredients
½ cup + 2 tablespoons (150 ml) evaporated milk
2 cups (425 grams) brown sugar
¾ cup (170 grams) unsalted butter, cut into cubes
¼ teaspoon salt
½ teaspoon vanilla extract
1¾ cup (198 grams) powdered sugar, sifted
¾ cup (85 grams) toasted walnuts, chopped (optional)
Instructions
Combine the evaporated milk, brown sugar, butter, and salt in a heavy-bottomed medium saucepan. Place over medium heat and bring to a boil, stirring until smooth. Continue to simmer, stirring frequently, until a candy thermometer reaches 238°F.
Remove from heat and pour into a heat-proof bowl. Add the vanilla and combine with a hand-held mixer. Add the powdered sugar in small additions while continuing to beat with the mixer. Mix until smooth. Add the walnuts and mix until just combined.
More
Carnation Evaporated Milk-12 oz, 12 ct


Grocery (Carnation)




12 x 12oz per can
Vitamin D added
A must-have for holiday baking. Adds extra creaminess and richer flavor.
Replaces drinking milk in recipes. Ease one for one milk substitution.
Great for baking and everyday use!