Strawberry banana Smoothie recipe with almond milk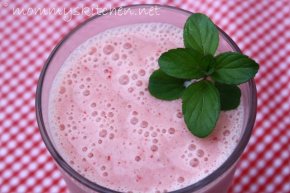 I know it just recently snowed here in Texas, but I am so in the smoothie mood. Maybe it is the site of all the ripened fruit that needs to be used up.
What better way to use all that fruit then to make smoothies. I am not sure in your house but in mine bananas and strawberries ripen faster than we can munch them down.
Next time your fruit looks like its on it's last leg just toss them in a freezer bag and freeze them. That way you will have them on hand whenever you are in the smoothie mood.
If you are not sure how to freeze bananas just click on the link for step by step directions on how to freeze bananas. Strawberries can be frozen in the same manner, just remove the stems first.
I like to flash freezer bananas & strawberries first before adding them to a freezer bag. That way they don't stick together and they are already in pieces to toss in the blender for a quick smoothie.
I love using frozen fruit to make smoothies, they come out so much more thicker and creamier. Keep in mind If using frozen fruit you will need to scale back on the amount of ice in the recipe or it will be way to thick.
Also if you don't like almond milk or you are allergic to nuts then you can substitute with regular milk or vanilla soy milk.
The almond milk is so good though so I recommend trying it first. I use honey to sweeten this smoothie so there
is no extra sugar added just the amount in the the yogurt.
If you want an easy and tasty then this is it. To make it even more healthy you can add some ground flax seed to the mix.
This is Gracie aka my smoothie buddy. We love to have smoothies in the morning together. There isn't a smoothie that I have made that Gracie has turned down ♥.

Strawberry Banana Smoothie
1 - cup vanilla almond milk
1 1/2 - cups ice
2 - ripe bananas fresh or frozen
1/2 - 1 - cup whole strawberries fresh or frozen
1 - cup strawberry or vanilla yogurt
1 - 2 tablespoon honey
Blend everything in the blender on ice breaker then smoothie setting and serve. If you smoothie is to thick add a bit more milk. If its to thin add more ice.
More
Pro Quality Nut Milk Bag - Big 12"X12" Commercial Grade - Reusable Almond Milk Bag & All Purpose Strainer - Fine Mesh Nylon Cheesecloth & Cold Brew Coffee Filter - Free Recipes & Videos
Kitchen (Ellie's Best)
The #1 TOP SELLING BIG 12X12 NUT MILK BAG! Smartly Designed in Response to Customer Requests for a Bigger Better Quality Bag Than the Small Egg-Shaped Ones, With...
PREFERRED BY CHEFS & NATURAL FOOD LOVERS FOR ITS SUPER STRONG CONSTRUCTION AND PULP FREE PERFORMANCE! It s Easier to Squeeze for Faster Results & You ll...
YOUR PRO QUALITY BAG COMES WITH A VALUABLE BONUS - A FREE RECIPE E-BOOK & HOW TO VIDEOS - OUR FAVORITE RECIPES INCLUDE UNIQUE AND YUMMY CHOCOLATE, STRAWBERRY...
Weight Loss Smoothie Recipes: Healthy, Low-Calorie Smoothie Recipes For Losing Weight (Vegan, Vegetarian, Low-Fat, Fruit and Vegetable Smoothies for Losing Weight and Staying Healthy Book 2)
eBooks