Sweetened condensed milk Pound Cake recipe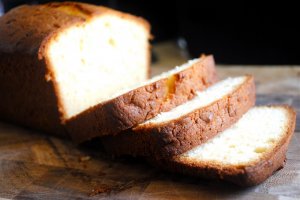 Maybe it's because I grew up by the beach, being in the sun all the time. Or maybe it's just because I LOVE being outside. But the smell of Hawaiian Tropic sunscreen brings a smile to my face. It reminds me of sun, and sand, and having fun. I can't get enough of the smell, it takes every ounce of self control not to drink the stuff.
In southern California the weather is almost always nice. But that doesn't always mean it's 'laying out' worthy. So when the sun starts to warm up and laying out is tolerable, I get wicked excited! I don't know what I like more, laying out or coffee. Please don't make me choose. Anyway, instead of drinking the bottle of Hawaiian Tropic I decided to make a cake that smelled and tasted like I imagine the sunscreen to taste. Voila, I did it.
I mean really, if you love coconut, or even if you don't, you will after a bite of this scrumptious cake. The coconut isn't TOO strong. The cake is super sweet and dense and the crust almost has a slight crunch because of the sugar caramelizing on the outside while it bakes. Not a crunch in a bad way, i don't know how to describe it, it's just freaking GOOD! PERFECT with some fresh strawberries or pineapple and big honkin dollop of whip cream.
Speaking of laying out, sunscreen and bikinis, I even used fat free condensed milk. You know, you gotta cut those calories when and if you can. And in this recipe, fat free totally works!
Ingredients
1 1/2 cups all purpose flour
3/4 teaspoon baking powder
1/2 teaspoon salt
2 sticks (1 cup) unsalted butter, room temperature
1/2 cup sugar
1 tsp vanilla extract
1 tsp almond extract
3/4 cup sweetened condensed milk
3 large eggs
1 1/2 cups sweetened shredded coconut
Instructions
Preheat oven to 325 degrees. Grease a 9″ x 5″ loaf pan.
*If you only have a 8.5 x 4.5 pan, that will work fine too.
In a bowl combine flour, salt and baking powder, set aside.
In the bowl of a stand mixer or hand mixer, cream butter sugar until light and fluffy, about 2 minutes.
Add sweetened condensed milk and mix for only a few seconds. Add in the dry ingredients, mixing just until the flour is mixed in (don't over mix).
Add eggs, one at a time. Add the extracts and shredded coconut. Dump batter into prepared pan, smoothing the top with a spatula.
Bake for 70 – 80 minutes, or until a thin knife inserted into the center comes out clean.
*If the top of the pound cake looks like it's browning too quickly, place a piece of foil over it for the remainder of its time in the oven.
Cool in pan for about 10 minutes, then finish cooling on a wire rack.
More
Popular Q&A
What can I substitute for condensed milk in a no-bake cheesecake recipe?!?!?!? | Yahoo Answers
If you have a can of evaporated milk on hand, you can make a very good approximation of condensed milk. In a saucepan, combine a cup of evaporated milk with 1-1/4 cups of sugar. Heat until the sugar is completely dissolved. Let cool. You can refrigerate the mixture for several days.