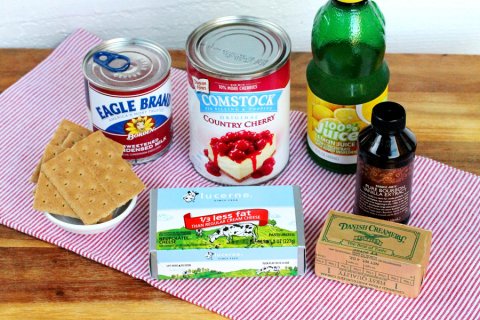 Eagle Brand sweetened condensed milk Cheesecake recipe
Cherry-O Cream Cheese Pie, an icebox pie made with cream cheese, condensed milk and cherry pie filling. This has always been one of my favorite summer pies and I swear it is literally the easiest pie in the world. I almost hate to post recipes like this because they are so simple that even if you've never made it before, once you have, you really never need the"recipe" again.
Far as I can tell, the pie came about sometime in the 60s through an ad to promote two Borden's products - Eagle brand sweetened condensed milk and Borden cream cheese - but, truth is, it's held onto its popularity even still today.
Y'all know how much I love vintage recipes anyway, and since this one is a throwback to the 60s, it's also a bit nostalgic to me. Besides that, I'm certain that some of you may have never heard of this simple pie, while others of you may have forgotten about it... so, here it is for you to enjoy!
When I was growing up, we had a Borden's milkman who made regular weekly stops at our house. Mama bought our milk, cream, butter and a few others things from him and Daddy paid the bill monthly so she didn't have to factor in the dairy products for three growing kids in her monthly grocery allowance. I can even remember a time when the milk was in bottles!
I swear our milkman must've been twelve back then though, because he is actually still driving a route here on the coast, but now it's for Schwann's foods. I don't buy from him because my freezer is usually filled with store sale stockups, but their food is actually pretty good, though a little expensive I guess. Like anything, you pay for the convenience. Even my Grandma Mac loved their apple pies and ice cream.
You can use all sorts of crusts for this pie from pastry, to graham cracker to cookie - they are all equally good. I happened to have one of those frozen in the pan crusts that The Cajun picked up for me once when he swore they didn't have any Pillsbury refrigerated crusts at the store. Pillsbury has always been my favorite commercial crust, and I like to keep those on hand for the times I feel lazy and just want a pie without fooling with making the crust.
There's nothing at all wrong with the in the pan crusts, of course. They are a fine product, except that they aren't the easiest to store long term because they take up too much room in the freezer. Anyway, it had been getting shoved around my freezer for months, so that's what I used.
Over the years, folks have messed around somewhat with the ingredients for this simple pie, but I think it's perfect just the way it started. Here's how to make it.
Recipe: Cherry-O Cream Cheese Pie
| | |
| --- | --- |
| Prep time: 10 min |Inactive time: 3 hours | Yield: About 8 servings |
Ingredients
1 (9 inch) graham cracker crust or baked pastry pie shell
1 (8 ounce) package of cream cheese, softened at room temperature
1 (14 ounce) can of sweetened condensed milk
1/3 cup of lemon juice
1 teaspoon vanilla extract
1 (21 ounce) can cherry pie filling
Instructions
More
Popular Q&A