Cake Recipes sweetened condensed milk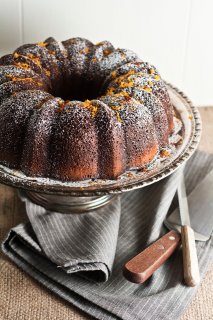 When I was a little kid, sweetened condensed milk was one of my favorite things. If I was sick and needed a spoonful of cough syrup to get me by, my mother would promise me a spoonful of sweetened condensed milk afterwards to help get rid of the taste. Even when I was sick, I recognized that this was a treat. Instead of her promised spoonful, I would ask for several, claiming the gross taste of cherry cough syrup was still in my mouth. My mother would just smile knowingly.
When I was feeling better, I would later break into our pantry, trying to figure out where my mother kept the cans of sweetened condensed milk. Always on the top shelf, of course. The only thing that really stopped my 7-year-old self from devouring an entire can was the fact that I didn't know how to operate a can opener.
It wasn't until fairly recently that I remembered sweetened condensed milk even existed in the first place. When tasked with baking a key lime pie for my coworker's sister's boyfriend's birthday (quite the connection, I know!), the recipe called for a can of sweetened condensed milk. It was only then that I remembered how much I loved the stuff. After emptying the majority of the can's contents into the pie filling, I found myself using a rubber spatula to scrape the remains of the can and lick it clean. Turns out old habits die hard.
Enter this recipe for sweetened condensed milk cake:
That's right. Sweetened condensed milk cake. It's like my two favorite things coming together — sweetened condensed milk AND cake — to have the beautiful baby that you see above.
I've had my eye on this recipe for a while now. I was interested in it not only because it combined two of my favorite things, but also because its recipe was structurally interesting. Instead of using sugar to sweeten the cake, the recipe uses two cans of sweetened condensed milk. How would it taste?
You would expect a cake that uses two cans of sweetened condensed milk to be extraordinarily sweet, but this cake wasn't. At all. If anything, it was less sweet than other cakes I've made in the past. Its main flavor instead came from the eggs, which was unsurprising — there were 8 eggs in the recipe after all. I was pleasantly surprised. I'm a big fan of eggy pound cakes.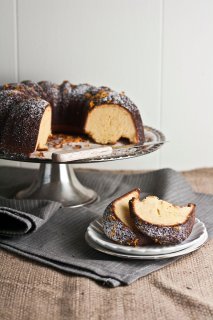 The cake was also denser than I thought. I was expecting a light and fluffy cake, but this was a hearty beast. In retrospect, this makes a lot of sense — creaming eggs and sugar together creates air bubbles that give cakes their light and airy texture. Therefore, replacing sugar with a heavy liquid like sweetened condensed milk results in a dense cake since you won't have additional leavening from the creaming process.
The cake's denseness was not a bad thing at all — on the contrary, it created the perfect texture for soaking up absorbing a cake soak. I ended up whipping a Grand Marnier cake soak that I poured over the cake before topping it off with powdered sugar and orange zest. The orange flavor complemented the cake's eggy flavor, resulting in one of the most delicious cakes I've had in a long time. I also suggest whipping up a dark chocolate ganache or orange glaze to top the cake off. Or at least, that's what I'll be doing the next time I make this cake. ;-)
Sweetened Condensed Milk Cake
Ingredients

For the Sweetened Condensed Milk Cake:
1 stick (4 oz.) unsalted butter (plus more for pan)
1 teaspoon orange zest (plus more for garnishing)
8 eggs, at room temperature
2 14-oz. cans sweetened condensed milk
2 cups all-purpose flour (plus more for pan)
1 teaspoon baking powder
1/4 teaspoon salt
For the Grand Marnier Cake Soak:
(enough for one 10-inch cake)
1/2 cup water
1 tablespoon pure vanilla extract
1/4 cup granulated sugar
2 tablespoons unsalted butter
a pinch of salt
1/2 cup Grand Marnier (or any other orange-flavored alcohol)
More
French COCOA POWDER 1 LB By Morning Pep Dark and Rich USDA certified ORGANIC by NFC, NATURAL , Unsweetened Raw NON GMO (16 OZ) Nice Resealable Stand Up Pouch Bag


Grocery (Morning Pep)




INGREDIENTS: USDA certified Organic raw Unsweetened cocoa powder
BENEFITS: Kosher , non-gmo , gluten free USDA certified Organic and suitable for vegans
MORNING PEP COCOA POWDER DIFRENTS: Dutch Processed Alkalized for quick and easy dissolving in COLD and hot water
NUTRITIONS: Rich in antioxidants , dietary fiber , iron , manganese , magnesium , zinc , and essential vitamins and minerals
PACKAGING: Morning Pep DARK CACAO POWDER is Packaged in nice convenient RESEALABLE stand up pouches to preserve freshness and purity

Morning Pep French Cocoa Powder 5 lb USDA Certified organic by NFC, Natural, Unsweetened Raw Dark Rich Non GMO(80 oz bulk) Nice Resalable Stand Up Pouch Bag, X-Large


Grocery (Morning Pep)




Ingredients: USDA certified organic raw unsweetened cocoa powder
Benefits: kosher , non-gmo , gluten free USDA certified organic and suitable for vegans
Morning Pep cocoa powder different: Dutch processed alkalized for quick and easy dissolving in cold and hot water
Nutrition s: rich in antioxidants , dietary fiber , iron , manganese , magnesium , zinc , and essential vitamins and minerals
Packaging: morning pep dark cacao powder is packaged in nice convenient resalable stand up pouches to preserve freshness and purity