Snow cream recipe sweetened condensed milk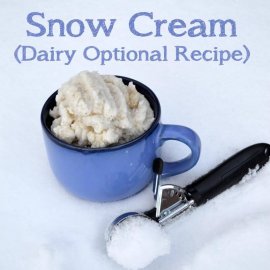 This week we finally got our first "snow day" . For two days, my kids (and all the kids in the neighborhood) have been outside 8-10 hours a day sledding, building snow men and making snow angels.
One of the children suggested making snow cream and once the idea had been spoken out-loud, all of the kids begged to be able to make this treat.
The original recipe that we made when I was a kid involved:
Snow (of course)
Milk, heavy cream or *cringe* sweetened condensed milk
Lots of sugar
I wanted my kids to be able to try snow cream, especially since the opportunity only presents itself every few years around here, but I wasn't stooping to sweetened condensed milk. I also didn't have any dairy in the house and I wasn't personally going to venture out on snowy roads to get any (I'm from the south… snow-driving isn't covered in drivers ed!).
We ended up figuring out a dairy-free/dairy-optional version that the kids enjoyed (and really, how hard could it be to figure out… it only has four ingredients!)
Snow Cream Recipe
Snow cream is a classic winter recipe that kids love. Made with fresh snow, coconut milk (or regular milk), vanilla and (optional) sweetener, it is a recipe that kids can make and enjoy.
Ingredients
Fresh clean snow
1 cup or more of coconut milk or (raw) milk
½ teaspoon organic vanilla extract
(optional) honey or maple syrup to taste
Instructions
Collect fresh snow in a large bowl.
In a smaller bowl, combine snow, vanilla and any desired sweetener.
Add just enough coconut milk or milk to create a smooth consistency.
Mix well with a spoon until evenly mixed.
Serve immediately and enjoy.
More
Low Carb Condensed Milk Mix (Sweetened) - LC Foods - All Natural - High Protein - Low Lactose - High Calcium - No Sugar - Diabetic Friendly - Low Carb Milk - 3.7 oz
Grocery (LC Foods Corporation)
Low Carb - All Natural - Gluten Free - No Sugar - Diabetic Friendly
All Natural Ingredients
Per 1.2 tsp: 0 Net Carbs
40 servings of approx. 2 Tbsp prepared condensed milk
Includes: 1 - 3.7 oz Mix