Easy Fudge recipe sweetened condensed milk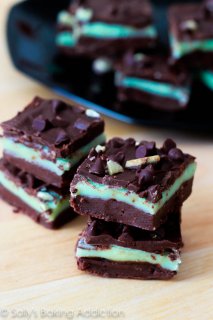 A giant Andes mint in fudge form. So good and dangerously easy! No candy thermometer required.
For a girl who doesn't typically favor chocolate over fruity/pumpkiny/caramel-y/peanut buttery desserts, I sure do pack my blog FULL of chocolate decadence.
I must be kidding myself. While I may not prefer the plain solid chocolates in the chocolate box, I definitely get a little weak at the knees biting into a Reese's peanut butter cup, a York Peppermint Patty, or a Snickers.
I just like chocolate with stuff! Peanut butter, nuts, caramel, pretzels, mint, bananas… wine…
With the upcoming holidays (I know, I think way ahead), I've been trying to brainstorm easy chocolate/candy recipes to make for my friends, family and coworkers come December.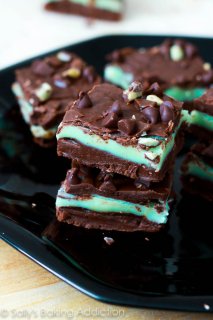 Nothing boring or plain like regular fudge, but still something easy and quick enough to whip up in the chaos that is my life.
Since I clearly overload the people in my life with peanut butter and chocolate, I feel a little minty chocolate action is much needed. Mint is chocolate's second soulmate after all. I got to experimenting in the kitchen yesterday morning and THIS is what happened. A giant, thick Andes mint in the form of fudge. Wow.
Start with an easy, no-frills-two-ingredient fudge base. No candy thermometer needed! Simply melt chocolate chips and sweetened condensed milk together. Pour into a pan. Simple, thoughtless, and quick.
The base firms up quite well, but still melts in your mouth. It's heaven.
Sandwiched in the middle is a layer combining melted white chocolate chips, sweetened condensed milk, peppermint extract, and a drop of green food dye. Gotta look like the real thing, right? Top it all off with a coating of pure melted chocolate. The top layer hardens up and is an unbeatable texture contrast to the softer fudge layers underneath.
The middle layer is my favorite part. Creamy, thick, soft, and perfectly minty. Using peppermint extract to flavor it, you have complete control over how minty you'd like the middle layer. I wanted it minty enough to cut the sweetness in the other layers, but did not want the mint to overpower the chocolate. I stuck with 1 teaspoon of peppermint extract. One teaspoon may sound like a lot considering how potent peppermint extract can be, but when mixed into dense white chocolate and sweetened condensed milk, the mint flavor is easily subsided. One teaspoon gives the perfect amount of mint flavor – not intense and not too faint. Taste it and go by your preference though.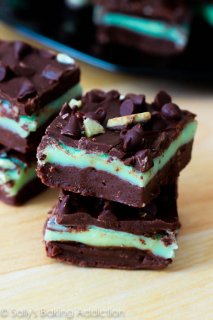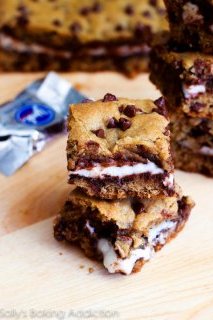 More
ORGANIC PROTEIN POWDER Plant-Based (Fair Trade Creamy Chocolate Fudge) by MARYRUTH - Vegan, Gluten Free, Non-GMO, Soy Free, Dairy Free, Nut Free, No Fillers, No Additives, Paleo Friendly 16.3 oz


Grocery (MaryRuth Organics)




CREAMY CHOCOLATE FUDGE: Tastes Exactly Like Chocolate! For Children, Teenagers, and Adults! Excellent tasting in smoothies and baking. MaryRuth Organics is known...
NO fillers, NO binders, NO additives, NO whey, NO grains, NO soy, NO dairy, GLUTEN FREE, VEGAN, PALEO FRIENDLY, CERTIFIED ORGANIC
16.3 Oz. Excellent Taste. Made of ONLY 6 of the highest purity ingredients. CERTIFIED USDA ORGANIC and FAIR TRADE ingredients.
Made from 100% Organic Pumpkin Seeds. Other Ingredients: organic cane sugar, organic fair trade cocoa powder, organic natural chocolate flavor, organic natural vanilla...
Contains 14g of protein per serving ( to support lean body mass and healthy body. Highly digestible. Excellent source of protein.
Popular Q&A
How do you make fudge with milk chocalate morsels and condensed milk in the microwave? | Yahoo Answers

Ingredients:
4 squares chocolate (4oz )
1 strip butter or oleo (1/4 pound)
1 pound confectionery sugar
1/4 cup condensed milk (not evaporated)
1 egg
l tsp. pure vanilla extract
chopped nuts if desired.
I usually double this recipe as my family and friends like it, and take some home with them.
Melt chocolate and butter together.
Add the sifted confectionery sugar, along with the condensed milk.
Add egg.
Add vanilla.
Mix all together, but don't beat the life out of it.
The mixing should be done by hand, as the fudge becomes too thick for a hand mixer.
Then add the chopped…