Caramels recipe sweetened condensed milk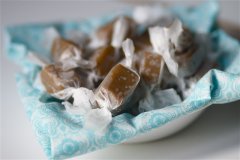 If you have read my blog with any regularity, you know I'm obsessed with sweet and salty. I know some people hate it but I'm in love. It just tastes like the absolute perfect combination to me- mostly sweet, with a crunch of salt. Yum. You can imagine then that I've been waiting and waiting to make Sea Salt caramels of my own. I've made caramel sauce several times and have the hang of that, but I never really took the time to figure out a recipe for the chewy candy-like caramels I love eating.
This recipe is extremely easy. In fact, I think it is much easier than making caramel sauce because you don't have the same risk of things burning. A candy thermometer is needed- but they are easy to find and a cheap investment. Whereas with caramel sauce, you can gage it's readiness by color, this recipe is a bit different. The candy thermometer lets you know when the caramel has reached "soft ball" stage, which will give you soft and chewy candy. Mmmm.
I had a salted caramel a few weeks ago that I was particularly inspired by. It had bit of flaky salt with the caramel and not just on top. I love the texture and getting those bursts of salt, so I wanted to recreate this. I poured the caramel into a thin layer, sprinkled sea salt on all of it, then layered two thin peices together and cut then into pieces. I think this was perfect. Now these beauties are sitting in a candy bowl on my living room table. Halloween candy anyone? Have a great weekend!
PS- I know that Corn Syrup is not the same thing as High Fructose Corn Syrup, but I'm on the search for a good caramels recipe that uses maybe Honey instead? Just for a variety. If you have one pass it on!
PPS- This is the perfect caramel for Caramel Apples! More on that next week! :)
Ingredients
2 cups brown sugar
1 cup corn syrup
1 stick of salted butter
1 can of sweetened condensed milk
1 tsp pure vanilla extract
Sea Salt for sprinkling
Wax Paper Squares for wrapping
Instructions
Butter or Spray a 9x12 baking dish. Set aside.
Combine first 3 ingredients in a large heavy bottomed sauce pan over medium-high heat. Stir to combine.
When Butter is melted, add in the condensed milk. Attach the candy thermometer and mix constantly until it reads 240 (Or Soft Ball Stage) I think this varies between 230-240 degrees.
When caramel is at the right temperature, remove from heat and whisk in the vanilla.
Pour into prepared baking dish and sprinkle with sea salt (as liberally as you want.) Allow caramel to cool in the fridge for about 30-45 minutes.
When caramel is set, use a butter knife or spatula to help wedge the entire sheet of caramel onto a cutting board. Cut into strips and then layer two strips and cut them into small pieces. Wrap with squares of wax paper. Enjoy!
More