Rice Pudding recipe without milk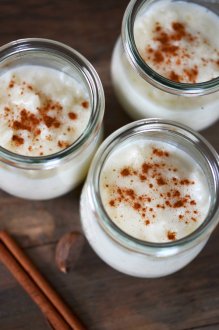 There used to be a recipe for gluten free rice pudding on this blog. It was an early one, too. Soon after I started a blog (March 2009) and long before I even know that blog was short for web log and even longer before I knew what web log even meant, I put up recipes for different gluten free puddings: chocolate, rice, vanilla, even tapioca, if memory serves. Variations of some of them ended up in the first Gluten-Free on a Shoestring cookbook. But somehow many of those early blog recipes disappeared into the ether. I even got some upset emails from some very flustered early readers about that very disappearance. It's taken me this long, but stovetop no-bake sweets are back on the blog, baby![pinit]
It's easy to forget how elegant something as simple as rice pudding can be. There's no flour and no cornstarch, and not even any egg yolks. You'll need nothing but the arborio rice plus some milk to make this thick and creamy gluten free pudding. Sometimes, when I'm feeling like feeling virtuous, I make it with brown arborio rice (Lundberg family farms makes it). It will tolerate any sort of milk at all, as long as it's not nonfat, and you can dial back or dial up the sugar, too.
Single servings of gluten free pudding (like we did with this no-cornstarch ), especially in these little 4 ounce Weck jars, are perfect for stashing in the back of the refrigerator for an after-school, or a late night, snack on the double.
I like to steep some whole cinnamon and whole nutmeg in the milk, too, just to dress it up. And all you need to remember about cooking the rice is not to overcook it. Simmer it in water just until it has absorbed most of the liquid before pouring in the simmering milk.
If you'd like an even quicker and easier version of rice pudding (one that's dairy-free, too) that requires almost no tending, kindly turn to page 179 of Gluten-Free on a Shoestring Quick & Easy. That one even has a thin and lightly sweet crust on top that just … sends me.
Prep time: Cook time: Yield: 6 servings
Ingredients
2 cups (16 ounces) water
1 cup (180 g) arborio (short grain) rice
1/8 teaspoon kosher salt
1 tablespoon (14 g) unsalted butter
4 cups (32 fl. oz.) milk (any kind, as long as it's not nonfat)
1/2 cup (50 g) sugar
1 stick whole cinnamon
1 piece whole nutmeg
2 teaspoons pure vanilla extract
Ground cinnamon for sprinkling
Directions
In a large saucepan, place the water, rice, salt and butter, stir to combine and bring to a boil over medium-high heat. Reduce the heat to a simmer, and cook for about 10 to 15 minutes, or until the rice has absorbed most of the water, leaving behind no more than a bit of thick, starchy water. Be careful not to overcook the rice.
While the rice is cooking, in a separate, medium-size saucepan, combine the milk, sugar, cinnamon and nutmeg, and cook over medium heat until the mixture is simmering (about 2 minutes). Once the rice in the separate saucepan is cooked, pour the simmering milk mixture through a strainer into the larger saucepan. Discard the whole cinnamon and nutmeg.
Cook the rice and milk mixture over medium-low heat, stirring occasionally, until the rice has absorbed most of the milk mixture and the entire mixture has thickened and begins to appear pudding-like, about 15 minutes more. The pudding will thicken as it cools, and will set in the refrigerator. Add the vanilla, and mix to combine.
Divide the pudding among 6 small heat-safe containers, sprinkle with ground cinnamon to taste, cover and refrigerate until set, at least an hour.
Minimally adapted from the recipe for Rice Pudding on page 233 of Gluten-Free on a Shoestring: 125 Recipes For Eating Well on the Cheap (Da Capo/Perseus 2011).
Love,
Me
P.S. If you haven't yet, please pick up your copy of the Gluten-Free on a Shoestring cookbooks! With your support, I'll make my kids keep writing the blog long after I'm gone.
More
Popular Q&A
What is the recipe for rice pudding made from scratch.
Ingredients * 2 1/2 cups (600 ml) of whole milk * 1/3 cup (66 grams) of long or short grain white rice * 1/8 teaspoon salt * More