Recipe for rice Pudding with coconut milk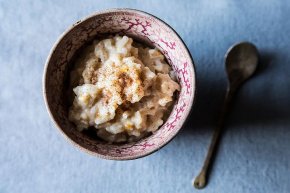 Remember a few weeks ago, when I said that cashew cream is a "secret weapon" in the vegan kitchen arsenal? Well, here's another one: coconut milk. Like cashew cream, coconut milk is incredibly rich in natural fats, so it's wonderful for replacing the heavy creams in many a dessert, bisque, or curry. Better still, coconut milk can be found at almost any grocery store, and using it is as easy as opening a can.
Not to be confused with coconut water - which is made from the water of young Thai coconuts - coconut milk is made from pulverized coconut meat and comes in both full fat and light varieties. When you open a can of full fat coconut milk, you'll probably notice a thick layer of cream on top. This portion is richer in fats than the rest, and can be skimmed off and used in recipes that demand something especially rich. If you shake the can, the cream disperses into the rest of the liquid, and the resulting coconut milk can be used in soups, stews, or—as you'll soon see—a creamy rice pudding.
A little coconut milk goes a long way in recipes; often, a few tablespoons will suffice. Fortunately, coconut milk freezes well in a tightly sealed plastic bag, a freezer-safe container, or ice cube trays.
Coconut milk is especially popular in Southeast Asian and Caribbean recipes, but its potential in your kitchen doesn't stop there. Here are a few ways that you can incorporate it into your home cooking: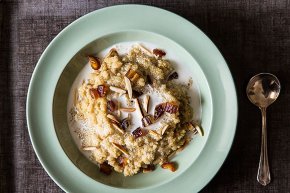 Better breakfast. Use coconut milk in your favorite hot cereal for a warm and comforting morning treat. You may want to try using half coconut milk and half water—a little goes a long way. Use this quinoa breakfast bowl as inspiration!
Coconut lassi. Blend 2 cups of mango, a teaspoon of vanilla extract (or the scrapings of 1 vanilla bean) and a cup and a half of light coconut milk together. Add a pinch of cardamom and a tablespoon of organic sugar for something sweeter.
Coconut milk curry. Use coconut milk—light or full fat—in your favorite curry recipe. I like adding extra firm tofu to mine, along with vegetables, green curry paste, tamari, garlic, and a pinch of red pepper flakes.
Dairy-free whipped cream. Skim the cream off of two cans of coconut milk, add a few tablespoons of organic powdered sugar, and use a hand mixer to whip the mixture up into light, creamy perfection.
Soup. Replace regular milk in any creamy soup recipe—butternut squash, potato, cream of broccoli—with coconut milk. You'll be amazed at how little you miss the dairy.
Molten chocolate. Coconut milk elevates hot chocolate to new heights, and it's easy to prepare at home: simply heat a can of coconut milk in a small saucepan and add an ounce of good dark chocolate to the mix. Sweeten as desired, and swoon.
The following rice pudding, kissed with ginger and citrus, is my current favorite use for coconut milk. Rather than adding the coconut milk to cooked rice, I cook the rice in a mix of coconut milk, water, and orange juice. The result is a subtly sweet, impossibly creamy creation, with ginger and cinnamon adding a hint of spice. You can serve it warm or cold. If you do keep it in the fridge for a few nights, you can reheat it on the stovetop with a few extra tablespoons of coconut milk. Enjoy!
More
Low Carb Evaporated Milk Mix - LC Foods - All Natural - High Protein - Low Lactose - High Calcium - No Sugar - Diabetic Friendly - Low Carb Milk - 4.9 oz


Grocery (LC Foods Corporation)




Low Carb - All Natural - Gluten Free - No Sugar - Diabetic Friendly
All Natural Ingredients
Per 1.5 tsp: 0 Net Carbs
Manufactured in the United States
Includes: 1 - 4.9 oz Mix
Popular Q&A
What is the easiest rice pudding recipe?
One of the easiest Rice Pudding Recipe is Place rice in bowl, add all ingredients, stir to mix. Pour into greased baking dish or pan. Bake about 25 minutes in a 350 degree oven.