Recipe for Chicken with coconut milk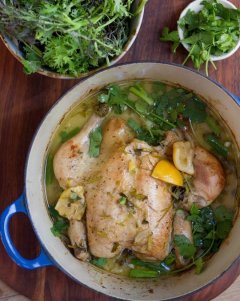 Our piece aboutJamie Oliver's chicken in milk got me thinking about other possibilities for cooking a whole chicken in milk — what could be easier than filling a pot with liquid and spices, turning on the heat, and walking away until what's left is the most succulent fall-off-the-bone bird?
So I decided to try the sweet and pungent flavors of coconut milk, lemongrass, and star anise. Served over rice, it's a one-bowl meal complete with wilted greens and soupy coconut broth.
Seasoning it a day ahead isn't essential, but adds to the depth of flavor. But listen, as far as flavor goes, you're well-covered since you're cooking the whole bird in coconut milk and aromatics. You'll need a heavy pot that will hold the chicken snugly, such as a Dutch oven, although you don't need the lid for this particular recipe.
Serves 4 to 6
1 whole roasting chicken (3 to 4 pounds)
Sea salt and freshly ground black pepper
4 tablespoons (1/2 stick) butter
1 tablespoon olive oil
1 cinnamon stick
2 whole star anise
1/2 cup roughly chopped cilantro stems
1 large lemon, cut into eighths
1 stalk lemongrass, 5 inches of white part only, chopped into 1/4-inch pieces
6 to 8 cloves garlic, peeled and smashed
1 (14- to 16-ounce) can coconut milk
3 cups torn greens (spinach, kale, chard, mizuna, etc.)
2 green onions, chopped into 1/4-inch pieces
Chopped cilantro, to garnish
Cooked rice, to serve
Pat the chicken dry and sprinkle it liberally with salt and pepper. Put the chicken, covered, in the refrigerator for up to 24 hours, or if you're going to cook it right away, set it aside while you prepare remaining ingredients.
When ready to bake the chicken, preheat the oven to 375°F.
Melt the butter in a large Dutch oven over medium heat, then add the oil. Put in the chicken, breast-side up, and let it sizzle for about 30 seconds. Carefully flip the bird and crisp the other side for another 30 seconds. Remove the pan from the heat, put the chicken on a plate, and pour off the fat in the pot.
Transfer the chicken back into the pot, breast-side up, and add the cinnamon stick, star anise, chopped cilantro stems, lemon, lemongrass, garlic, and coconut milk. Cook, uncovered, in the preheated oven for 60 to 90 minutes (depending on size). Spoon the sauce over the top of the bird to baste every 20 minutes or so. The chicken is done when an instant-read thermometer inserted into the thigh reads 165°F.
Remove chicken from the pot and put it on a plate. Pull out and discard the cinnamon stick and star anise. Put the pot with the sauce back on the stovetop over medium heat, add the spinach and stir until just wilted, about 10 seconds.
Carve the chicken and serve each piece over rice with sauce spooned over the top. Garnish with chopped scallions and cilantro leaves.
More
Popular Q&A
Good Quality Curry Powder? Spice Seasoning Flavor? | Yahoo Answers
Penzeys.com has a wide variety of curry powder types, including a very hot curry that is absolutely delicious. I do not recommend McCormick's for anything other than an absolute emergency.