Breast milk Ice cream recipe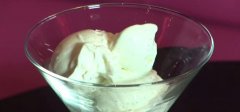 There's no shortage of ice cream recipes out there, but one ice cream shop in London has found a unique recipe to sell to its customers, and of course it's controversial—breast milk ice cream.
The Icecreamists make the ice cream from donated breast milk, straight from healthy, lactating mothers. This breast milk ice cream, which they tagged as "Baby Gaga" flavor, comes from as many as 15 different mothers, all of which have been "screened in line with hospital/blood donor requirements." And all of them were found via an Internet advertisement.
It's being sold in their Convent Garden store, additionally flavored with vanilla and lemon zest. Reportedly, the first batch of Baby Gaga sold out within days of being introduced, at about 14 pounds a scoop (roughly $22.50) a serving.
The Icecreamists' founder Matt O'Connor says, "It's pure, it's natural, it's organic, and it's free range—and if it's good enough for our kids, it's good enough to use in our ice cream."
Would you be willing to try out this new recipe for ice cream?
Chances are you're not going to see this in ice cream shops in your local area anytime soon. If you remember that inanity of PETA insisting Ben & Jerry's replace cow milk with human breast milk a few years back, you can see how well that turned out. But if you really want to try it out—you can make it at home.
You may not have a cow laying around your apartment, but you may have a few breasts. And breast milk can easily be substituted in any recipe requiring milk—coffee creamer, scrambled eggs, hot chocolate, cheesecake, mac and cheese, and of course, ice cream. But if you plan on making a large batch of breast milk ice cream, most of you mothers won't be able to pump the required amount the recipe calls for. Try using part breast milk, part regular milk, if you must.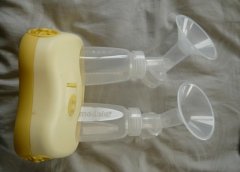 Below is just one recipe you can try out. It's simple and anyone can make this. Even kids. But only one person is in charge of providing the breast milk...
Step 1: Ingredients
½ cup breast milk
½ teaspoon vanilla
1 tablespoon sugar
4 cups crushed ice
4 tablespoons salt
1 standard-sized coffee can
1 economy-sized coffee can
Hand towel or gloves (to protect your fingers)
Step 2: Making the Ice Cream
Combine the breast milk, vanilla, and sugar into the standard-sized coffee can and mix thoroughly. Tightly seal the can with its plastic lid and place inside the larger sized coffee can. Fill that can with the crushed ice, then sprinkle the salt over on top.
Now, use your gloves or towel to protect your hands as you roll the can back and forth on the ground, until the ice cream sets. The time required depends on the number of servings in the can.
Tips
The salt cause the ice to melt slightly, lowering its freezing point. Water freezes at 32°F. Water with 10% salt freezes at 20°F.
You can use plastic ziplock freezer bags instead of coffee cans. Just combine the breast milk, vanilla, and sugar in a 1-quart freezer bag, then putting that bag inside another 1-quart freezer bag to protect it from the salt. Now, put those bags inside a 1-gallon freezer bag, pour the ice and salt in, and use gloves to mix it around until set.
About 8 minutes is needed to freeze one serving of the ice cream mixture.
The following video will show you the general process using the plastic bag method.
More Recipes...
For more breast milk ice cream ideas, just check out all of the ice cream recipes on WonderHowTo, substituting the cow's milk for human breast milk. If you want to know about other ways to use breast milk in recipes, here's one for Apple Cream, which uses a combination of breast milk and low-fat ice cream. It makes 4 (8-ounce) servings.
2 cups vanilla low-fat ice cream
1 cup unsweetened applesauce
¼ teaspoon ground cinnamon (or apple pie spice)
1 cup breast milk
Ground cinnamon (optional)
In a blender container combine low-fat ice cream, applesauce, and the ¼ teaspoon cinnamon or apple pie spice. Cover and blend until smooth. Add breast milk. Cover and blend until just mixed. Pour into glasses. If desired, sprinkle each serving with additional cinnamon. Serve immediately.
More
Freezer Storage Tray with Lid - Best Containers for Homemade Baby Food, Purees, Breast Milk and Mashed Vegetables & Fruit - BPA Free and FDA Approved - Orange
Baby Product (Baking Wizards)
SAVE MONEY & TIME - Don t throw good quality baby food away which you spent time making. Save money and time by storing your homemade recipes for use later...
STACKABLE & REUSABLE - This utensil comes with a EASY-TO-USE clip on lid which makes it easy to stack multiple trays in your freezer. Made with professional...
EFFORTLESS POP OUT - No more breaking or chipping nails! Removing frozen food has never been easier. The rounded shape and press out bottom means you can pop out...
MULTIFUNCTIONAL - These trays are not just for feeding and weaning, store a variety of things - large ice cube maker, ice cream tub, baking cupcakes, mini muffins...
PERFECT GIFT - This is the perfect present for new & expectant parents. Gifts for baby showers, Christmas holidays mother s day, father s day and more. Check...