Raw milk ice cream recipe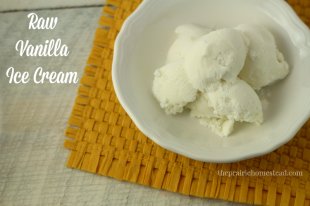 Ice cream is usually considered to be junk food.
Kitchen Notes:
Feel free to experiment with other sweetener options–I've added maple syrup and honey to mine in the past. They change the flavor a bit, but it's still yummy.
Since this recipe is completely uncooked, this is a good time to use your raw milk and cream, if you have them. If not, then try to choose the best quality milk you have available.
I'm not currently milking our goats, so I haven't tried this particular recipe with goat's milk. However, in the past I've been able to use goat's milk to substitute for 100% of the milk and cream in other recipes. So in this recipe, try using 4 cups of goat's milk instead of the 2 cups of cream and 2 cups of milk.
If I'm preparing a large meal, I like to make the ice cream base ahead of time (up to 24 hours) so it's one less thing I have to worry about.
This recipe only makes a quart. I always, always end up multiplying ice cream recipes. We had a whole bunch of people over for the 4th of July, and I made TWO quadruple batches. It was a hit!
This is in the WHOLE ENTIRE WORLD. (affiliate link)
With other ice cream recipes I've made, you have to let it sit out at room temp for 15-30 minutes before it's scoop-able. I particularly like this recipe because I had no problem scooping it straight from the freezer- even after it had frozen solid.
Simple No-Cook Vanilla Ice Cream
Ingredients
2 cups heavy cream
2 cups whole milk
1/2 - 3/4 cups of sugar
2 Tablespoons vanilla extract
Pinch of sea salt
1 or 2 vanilla beans
Instructions
Combine milk, sugar, and vanilla beans in blender
Thoroughly blend until vanilla beans are chopped into tiny bits
Add remaining ingredients, blend until combined
Place in your ice cream maker and freeze according to manufacturer's directions
Serve immediately for soft-serve style, or place in freezer for firmer results
3.1
All Rights Reserved | The Prairie Homestead | 2013
All in all, I think you'll really like this recipe. You really can't go wrong with homemade ice cream- and I especially love it since it's a old-fashioned treat that brings back fond memories for many folks.
Join over 67, 000 others who get the weekly Homestead Toolbox delivered fresh to their inbox. It's packed full of recipes, ideas, and homesteading tips you can actually use (no fluff), plus a copy of my very popular mulch gardening how-to guide.
More
U.S. Army Medical Correspondence Course: Dairy - Milk, Cream, Fresh Dairy, Yogurt, Homogenization, Pasteurization, Raw Milk, Cheese, Ice Cream, Butter, Manufactured Products
eBooks (Progressive Management)