Almond milk Ice cream recipe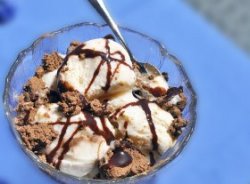 If you're on a diet:
You will love this recipe because it makes a gigantic serving for only 40 calories. (Seriously, the serving is huge.) Who eats a 1/2 cup serving of ice cream anways? 😕
If you're not on a diet:
You will love this recipe because you can up the calories by making it into a brownie sundae, by pouring on chocolate syrup, or by opting for the peanut butter version. Yes, there is a peanut butter version.
Really, I'm obsessed with those brownies. As for the ice cream: it could not be easier to make, and there are unlimited variations—you can add coffee, mint extract, fruit, chocolate chips… I haven't even begun to try out all the combinations I've dreamed up for this incredibly-versatile recipe.
Volume Ice Cream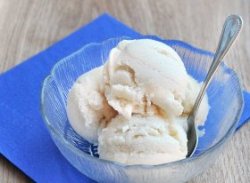 (Makes 1 huge serving)
1/4 tsp pure vanilla extract (or about 1/4 of a vanilla bean, sliced lengthwise and scraped out)
1/16 tsp salt (trust me)
sweetener (such as 1-2 stevia packets or 1-2 tbsp sugar)
1 cup almond milk (I used unsweetened Silk. See below for substitution notes.)
optional: add-ins such as fruit, peanut butter, or extracts
Mix the ingredients together in 1 or 2 shallow plastic containers. Freeze. (You could also use an ice cube tray.) Once frozen, pop the blocks out of the container (I thaw for 30 seconds in the microwave first) and blend in your Vita-Mix. (If you don't have a vita-mix, you'll probably have to thaw longer, but you can still get a yummy ice milk.)
This ice cream—when made with almond milk—has a very light texture (perfect for summer).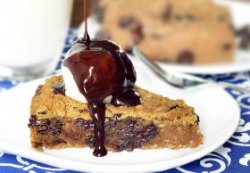 For a creamier texture that's more like real ice cream, try using at least 1/4c canned coconut milk (or maybe even creamer?). You can, of course, also sub other non-dairy milks for the almond. But if you do this, play around with the amount of vanilla extract, sweetener, and add-ins. (For example, an already-sweetened milk will probably need less added sweetener.) To make it look like real ice cream, scoop out with an ice-cream scoop.
Warning:
This is an extremely voluminous recipe, so if you're like me and need to watch that you don't get full before you've taken in enough calories, I recommend eating this as part of a sundae or adding some extras to the basic recipe. 'Cause it will fill you right up!
More