Recipes that use chocolate milk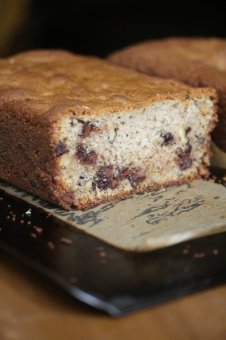 WHAT YOU'LL NEED:
I'm a nerd, but I often wake up early on Saturdays, and I like to get to the farmers' market when it opens, around 8am, before the hordes of shoppers, children, strollers, and puppies arrive. I like to get there when it's still cool out in the summer, and when I have first pick of the goodies and don't have to wait on line to buy them.
When I can get myself out of bed to go running that early, which is a much, much rarer occurrence than simply getting out of bed, I'll stop at the market on at Grand Army Plaza on my way back home from the workout. I tuck a twenty dollar bill into my sports bra or my sock before my run and then spend the sweaty money until it's gone. The condition of the bill after it has made contact with my sweat may be a little off-putting for the vendors, but otherwise this is a pretty good system, since it prevents me from spending an entire week's worth of grocery money in one fell swoop. All I've got is a twenty.
I'm always hungry in the morning, but after I run it's a different story altogether. I'm starving. I need to eat. I think I heard once that chocolate milk is a superlative post-run snack, better than gatorade or vitamin water or power bars. So a couple times, I've headed straight for the Ronnybrook stand and broken my damp twenty dollar bill there. I have to get milk and sometimes butter anyway, so adding a small container of chocolate milk isn't such a big deal. I buy the whole milk version, in case you were wondering, and it tastes like melted chocolate ice cream.
Most recently, I was at the market, first in line to buy milk, when the Ronnybrook guy announced that the small plastic bottles of milk and chocolate milk were only a dollar. I had been on the fence about needing chocolate milk for sustenance–maybe I could hold out until breakfast?–but that little sale put me over the edge. I walked home drinking the chocolate milk, like a toddler or something, and I made it about halfway through the bottle before I was ready to toast the baguette I'd gotten for breakfast.
Skip now to a few days later, when I'm approaching my pre-vacation (that is, sort of empty) fridge, logically trying to figure out what I can make to send to my sister, Katie, who's down in Mississippi for Teach For America's training institute. I needed to be strategic here. There were two constraints: one, it costs a lot of money to ship by UPS to places like Cleveland, MS, so whatever I sent had better be good; and two, Kate was craving some real, nourishing food. Institute's food is apparently not so great, and they barely give the teachers-in-training time to eat it anyway. (You can check out Kate's adorable and informative blog, where she's writing about learning to teach in the Mississippi Delta.)
I decided to make a simple chocolate chip pound cake, packed with walnuts for some nutritional value. Instead of making pound cake the traditional way, with only butter, eggs, and flour, I went to add some milk too. I had just enough regular milk for the following day's coffee, but I did have leftover chocolate milk. In went that.
The chocolate flavor is not necessarily pronounced (aside from the chips themselves), but I think that there's a little something extra here, that the creaminess and chocolatiness of the very good chocolate milk eventually shines through. So fork over a dollar for on-sale chocolate milk and make a loaf yourself.
From my kitchen, sending sweets to Mississippi, to yours,
Cara, THE QUARTER-LIFE COOK
**Recipe**
Chocolate Chip-Walnut Loaf
Makes 1 loaf
Ingredients
1 3/4 cups flour
1/2 teaspoon baking soda
2 teaspoons baking powder
1/2 teaspoon salt
10 tablespoons butter
1 cup sugar
1 teaspoon vanilla
2 eggs
1/2 cup chocolate milk
1 cup chocolate chips
1 cup toasted walnuts, chopped
Preheat the oven to 350°F. Butter a loaf pan.
On a sheet of wax paper or in a small bowl, mix together the flour, baking soda, baking powder, and salt. Set aside.
More
Mr. Coffee BVMC-EL1 Cafe Latte


Kitchen (Mr. Coffee)




Delicious lattes in one simple touch
24-ounce capacity to serve more than one drink at a time
Auto power off once drink is ready
Powerful milk frother
Also makes hot chocolate; recipe book with 20 latte and hot chocolate recipes included