Recipe of milk chocolate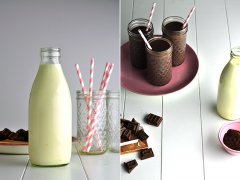 Okay okay so there is a crazy buzz about this Lewis Road Creamery Chocolate Milk in New Zealand so naturally here at Our Kitchen we were dead keen to try some. Our friends in the Auckland office informed us that they had tried to purchase some of this 'like no other' delicious velvety chocolate milk infused with Whittaker's Creamy Milk Chocolate but after more than 10 attempts on various days and at a variety of stores, the elusive brown bevvy was still at large.
So while our northern counterparts kept flapping their wings in a counter clockwise milk stalk we southerners busted out the number 8 wire and just got to business and made our own version.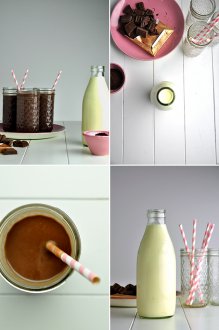 Despite our immunity to anything trendy down here in Dunedin, if there is one thing this town is famous for it's brown beverages and with that sort of experience we are confident that you'll find our version to be mighty fine.
If you have missed the buzz and am wondering what on earth I'm rambling about, this is going totally cronut. Reports of security guards monitoring supermarket fridges and 'Chocalypse' are dominating our local media. If you are trying to get your hands on the stuff we recommend running shoes and a pair of shoulder pads.
Our version has dutch press cocoa included which makes it super dark and lets be honest… if someone handed me a glass and told me it was the real thing I'd believe them as as far as I know I could be comparing it to an urban myth.
More
Combo Chocolate Bar Pack (Six Pack) - Gluten Free, Nut Free, Milk Free


Grocery (Premium Chocolatiers)




Milk / Lactose Free
Peanut / Nut Free
Gluten / Egg Free
Vegan Friendly. Contains Soy.
Great Tasting!

#1 Raw Organic Chocolate Bar - Yacon Sweetened and Superfood Enhanced. FREE of Gluten, Soy, Nut and Dairy, Low Glycemic, Vegan, Kosher, Paleo, Fair Trade, Non-GMO, and Packed With Benefits. FREE Bonus Raw Cacao Recipe eBook, 100% Money Back Guarantee!


Grocery (Educating Wellness)




The smoothest, creamiest, healthiest, and most delicious raw chocolate bar for yourself and your kids. Eating a whole food, plant based diet for weight control and...
Our full 50g bars are satisfying and chalked full of creamy deliciousness. The best introduction to raw chocolate any person could ask for. With zero refined sugars...
Take your love affair with chocolate to a whole new level with our just right sweet flavor from our Doctors proprietary blend of the almighy Superfoods and Longevity...
4 Superfood Packed flavors to choose from: Superwoman (powered by AMLA), Primordial Energy (powered by MACA/NIBS), Extra Dark Mint (powered by Mentha Piperita)...
Let our hand picked and fair trade high quality superfood ingredients speak for themselves with our Better Than Money Back Guarantee ! See description below for...