Recipes of milk cake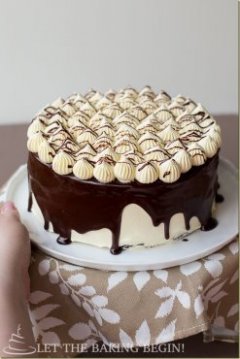 Easter's coming up and everyone's looking for that one great recipe of cake that will just blow everyone away. You're in luck today, because I think I've got just the recipe for you! The moistest chocolate cake, filled with silky custard, covered in drizzling chocolate ganache glaze & topped with fluffy mounts of custard lightened with whipped cream. Oh and one more drizzle of chocolate on top!
I have been wanting to make this cake, for-eeveer! My aunt has been making a variation of this cake for pretty much every family celebration we had in the last… at least 2 years. Then I found Midnight Sin Chocolate Cake by Not so Humble Pie. Her recipe produced such wonderfully moist and delicious chocolate cake, that I knew I had to do something with it. That's how an idea, to combine her Chocolate cake & the custard from my aunt's cake into one.
When you combine the two, something magical happens. The custard combined with the chocolate cake makes for an incredible combination, but when the cake is left a lone for a day, the custard gives off moisture to the cake, making the already moist chocolate cake even more moist. It's almost fudge like when you bite into it.
This cake is definitely going into my recipe box as a favorite!
For this recipe, I have tried to make a little video tutorial on how to decorate the cake, because describing it, while possible, is not as effective a seeing it. So let me know how you like it!
Ingredients:
Chocolate Cake:
546 g (2 3/4 cup) granulated sugar
4.5 g (1 tsp) salt
69 g (3/4 cup) dutch processed cocoa powder
5g (1 tsp) baking soda
1 cup boiling water
237 ml (1 cup) canola oil (I used extra virgin olive oil)
10 ml (2 tsp) vanilla extract
2 g (2 tsp instant expresso powder or 2 tbsp ground coffee
218 g (1 3/4 cups) bleached all purpose flour
4 large egg yolks
2 large eggs
1/4 cup sour cream or buttermilk
Custard:
1 cup granulated sugar
1 cup milk
15 egg yolks
400 grams butter
1 Tbsp Vanilla Extract
Lightened Custard (for decorating)
1 cups custard (leftover custard that's left after filling the cake)
8 -oz Whipped Topping or 1 cup whipped heavy cream
Ganache:
100 millilitres heavy whipping cream
1/2 cup semi-sweet chocolate chips or chopped dark chocolate
3 Tbsp corn syrup or 2 Tbsp glucose
Special Equipment:
2 – 9 inch round cake pans
2 cake strips
1 adjustable cake ring
Mixer
Make the custard first:
Combine egg yolks and sugar in a medium-sized pot and whisk until smooth. Add milk and whisk again. Cook over medium heat, constantly stirring until it begins to thicken and covers the back of the spoon. When you run your finger over the back of the spoon, the custard should not run into wiped space. Add vanilla extract & stir.
Add butter to the custard and stir until butter is completely melted and incorporated into the custard. Cover with plastic wrap, touching the custard (to prevent forming of skin) and allow to come to room temperature.
While the custard is cooling, let's make the cake:
In a cup whisk together eggs, egg yolks & sour cream. Set aside.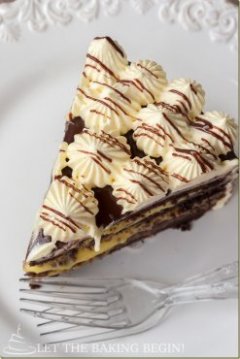 If you have espresso powder, combine the espresso powder with the boiling water. Or brew 2 tablespoons of ground up coffee with 1 cup water. Drain coffee and make sure there's 1 cup of liquid. If there's not, add enough to make 1 cup. Set aside.
Combine sugar, cocoa powder, salt & baking soda with the espresso boiling water mixture and stir until almost no lumps appear. Cook over medium high heat, constantly stirring until it comes to a boil. This step will make the darkest chocolate color it can be. Remove from heat and allow to cool for 10 minutes.
Add the chocolate mixture to the mixer and with beater blades, beat on low sped for 2-3 minutes, to remove additional heat from the mixture. Add oil & vanilla extract and beat until combined and smooth. Add flour and beat again until smooth. Add the egg mixture and beat until combined once more. Try to use minimal amount of beating after the flour is added, we do not want any gluten development as it will make the cake gummy.
Pour batter into 2 9 inch round cake molds lined with parchment paper & sprayed with non stick spray, or if you do not have the non stick spray, butter the pan, add 1 tbsp flour then shake around to cover the pan, shake out the excess.
Put on wet cake strips around the pan. This will ensure the cakes rise evenly, so that we do not have to level the cakes after they bake.
Bake in preheated 350F oven for 25-30 minutes or until a toothpick inserted in the center comes out clean. If using an 8 inch cake mold, add 5-7 minutes to the baking time.
Once baked, remove from oven and allow to cool for 5 minutes. Then, run a knife around the inside of the cake mold and unmold the cake by turning it over onto a cooling rack. Remove parchment paper and allow to cool completely.
Cut each cake horizontally into 2 layers. This will ensure maximum absorption of the custard once layered.
See the rest of interactions in picture from below, or scroll all the way to the bottom for a video.
Place the first cake layer in the middle and tighten the adjustable cake ring around the cake.
Put second cake layer on top, press it in, then alternate cream & cake until all cake is used up, and you have about 1.5 cups of frosting left over ( the video says 2, but I think it was more like 1.5 cups). Refrigerate leftover custard until further instructions.
Refrigerating the cake overnight will prevent the cream from running out the sides and help with further decorating.
NEXT DAY:
Combine leftover custard & 8 oz of whipped topping or 1 cup of whipped heavy cream. Carefully fold it together until well combined.
Cover the cake with frosting, smoothing out the sides and top with spatula and a scraper.
Fit pastry bag with a star tip.
Make the Ganache, following this recipe & instructions.
Pour about 1/2 of ganache in the middle of cake, bring it closer to the edges with spatula, then add the other half, reserving only about 1 tablespoon for later.




More
Popular Q&A
What is a recipe for funnel cake without using milk?
You can substitute soy milk for dairy milk in this recipe. 1 egg 2/3 cup milk 2 tbsp. sugar 1 1/4 cup flour 1/4 tsp. salt 1 tsp. baking powder In a deep skillet, heat about two cups of oil over medium-high heat until hot. Test the temperature by dropping a pinch of flour into the hot oil. If it sizzles right away without smoking, it's perfect. MORE