Recipe with condensed milk and chocolate chips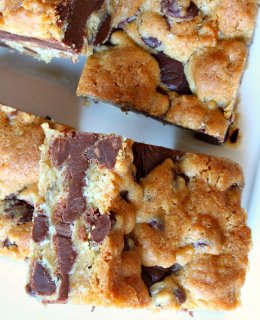 Gooey Chocolate Chip Sandwich Bars… Cookies for Kids' Cancer Cookbook
September is Pediatric Cancer Awareness month, and today I'm sharing some . What do these goodies have to do with cancer? The Gooey Chocolate Chip Sandwich Bars come from the "Cookies For Kids Cancer: Best Bake Sale Cookbook." I'm giving away 3 copies of this fabulous book– see the details at the end of this post…
The Cookies for Kids' Cancer cookbook provides directions on how to hold a bake sale, signage, and lots of recipes and photos. The best part? All of the author's royalties go directly to help fight pediatric cancer by funding research into new treatments and a cure. Author Gretchen Holt-Witt founded cookiesforkidscancer.org in 2007 when her two-year old son Liam was diagnosed with pediatric cancer. A few years and a few hundred thousand cookies and bake sales later, this charity has raised millions of dollars to help fun new pediatric cancer treatments. Kids helping kids… I like that.
These are slab cookies. Made in one pan and lifted out as a slab. Love that word- slab. Slab. Slab. (sorry)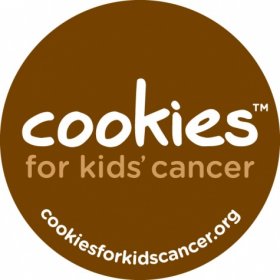 They're a little chocolatey. SOOO good right out of the pan and warm and gooey, but rather hard to cut. It's best to chill them and them cut them neatly. If you're into being neat.
So let's talk about the makeup of these bars. They're basically chocolate chip- oatmeal cookie dough spread into the bottom of a pan, then topped with a gooey chocolate layer, then topped with more chocolate chip- oatmeal cookie dough. Hungry? Craving chocolate now? Yeah, I thought so.
I love the sort of natural, rustic crackle look on the tops of the bars. Gives you a lil' peek that there is a gooey layer of chocolate hidden in the middle.
And there they are… my "neatly" cut Gooey Chocolate Chip Sandwich Bars. Chocolate overload, if you like that sort of thing. Good with milk, if you drink that stuff. And perfect for a bake sale, where you'll make big bucks to donate to Cookies for Kids' Cancer. I think it's a great idea for kids to have bake sales for charity– showing them that it's not all about making money for themselves to purchase their next Wii game or iTunes gift card or whatever. There are things much more important in this world.
I'm giving away three copies of the, courtesy of Wiley Publishing and three OXO Good Grips Good Cookie Spatulas, courtesy of OXO. This giveaway is open to anyone who has a mailing address in either the USA or CANADA. Three winners will be chosen via random.org on Sunday, October 2nd and will be contacted via email. Each winner will receive a Cookies for Kids' Cancer Cookbook and an OXO Good Grips Good Cookie Spatula.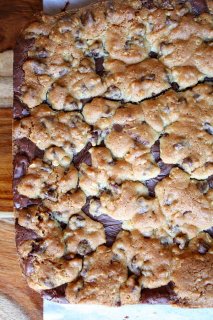 32 bars
Prep Time: 30 min
Cook Time: 20 min
Ingredients:
GOOEY CHOCOLATE FILLING:
2 cups semi-sweet chocolate chips
One 14-ounce can sweetened condensed milk
2 teaspoons vanilla extract
COOKIES:
1 cup (2 sticks) unsalted butter, at room temperature
1 cup light brown sugar
1/2 cup granulated white sugar
1 large egg
1 large egg yolk
1 tablespoon vanilla extract
2 cups all-purpose flour
1 cup quick-cooking or old-fashioned rolled oats
1 teaspoon baking powder
1 teaspoon baking soda
1 teaspoon kosher salt
3 cups semi-sweet chocolate chips
Directions:
1. Preheat oven to 350 degrees F. Lightly butter a 9x13-inch pan with parchment paper, allowing enough overhang on the long side to lift the bars from the pan.
2. Prepare the gooey chocolate filling: Place the chocolate chips and condensed milk in a small saucepan over the lowest possible heat and cook, stirring constantly, until the chocolate has melted and the mixture has thickened, 3 to 5 minutes. Turn off the heat, add vanilla, and stir until smooth. Set aside to cool to room temperature.
3. Prepare the cookie dough: Place the butter and sugars in a large bowl. Beat with an electric mixer until smooth and creamy. Add the egg, egg yolk and vanilla. Beat well. Whisk together the flour, oats, baking powder, baking soda and salt in a medium bowl. Add to the butter mixture. Beat until everything is well incorporated, scraping down the sides of the bowl as needed. Stir in the chocolate chips.
4. Prepare the bars: Using half of the batch of cookie dough, place dollops into the prepared pan and press down lightly to even it out. Pour the cooled chocolate mixture over the dough and then add small dollops of the remaining dough on top. Don't worry if the dollops don't completely cover the chocolate mixture. Just spread it together as much as you can, and let some chocolate peek through.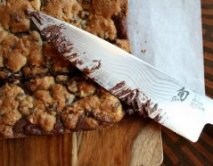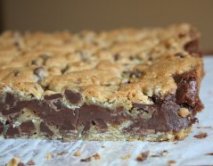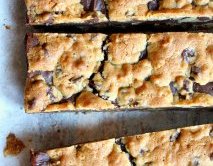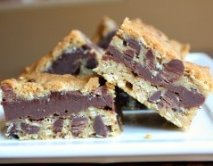 More
Hershey's Milk Chocolate Baking Chips, 11.5-Ounce Bag (Pack of 12)


Grocery (The Hershey Company)




Perfect for everything from pancakes to desserts
Milk chocolate
A versatile, multipurpose ingredient
Gluten-free and kosher chocolate chips
Includes 12 bags of Hershey s Milk Chocolate Baking Chips (11.5-Ounce bag)