Condensed milk and chocolate Recipes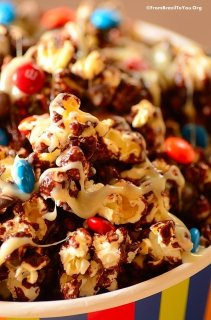 Yum
The Fourth of July, America's Independence Day, is just around the corner. Last year we celebrated with a refreshing, patriotic . But this year we will be celebrating the date with none other than a fun, Quick Chocolate Popcorn with Condensed Milk Drizzle and M&M's (Pipoca de Chocolate com Leite Condensado e M&M's)…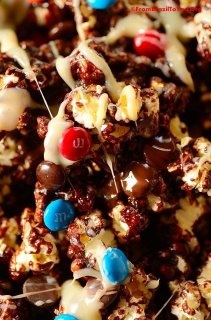 This chocolate popcorn is a great family dessert which virtually no child (or adult) will be able to resist… See the precise equation: Chocolate + popcorn + sweetened condensed milk + colorful M&M's = a HIT! It just doesn't get any better than this, does it?
If you love grilling, these accompanied by will make your day! If you don't feel like firing up the grill, try these fall-off-the-bone barbecued which are prepared in the oven and can be enjoyed all year round.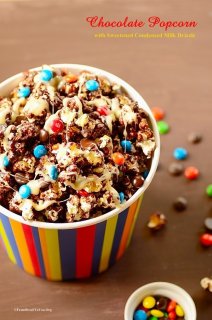 And, of course, this Strawberry Caipirinha or (drink and dessert in a glass) can cool off any soaring temps.
Enjoy the day with your family and friends, watching the fireworks and celebrating such an important date for America! As for me, I cannot get enough of this chocolate popcorn — yes, just like a kid in a candy store… oh, well, …
HAPPY INDEPENDENCE DAY, AMERICA!
Author: Denise Browning
Recipe type: Snack/Dessert
3 (1.12 ounce) bags of microwave popcorn or about 9 cups popped popcorn
½ cup sugar
⅓ cup light corn syrup
½ stick butter (or 4 Tablespoons)
4 tablespoons unsweetened cocoa
A pinch of salt
⅛ teaspoon baking soda (to prevent popcorn from becoming candied)
1 teaspoon pure vanilla extract
2 - 4 Tablespoons of sweetened condensed milk to drizzle
M&M's to decorate (I used the milk chocolate ones)
More