Recipes with evaporated milk and chocolate chips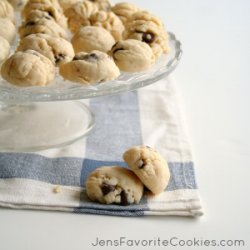 These condensed milk cookies are simple to make. The recipe for these three ingredient cookies calls only for butter, flour, and condensed milk.
Since my kids, and my nieces and nephews, have been getting older, and there are no really little kids left in our family, my mom has been trying to come up with some fun activities that we can all do together.
To that end, she planned a pizza and Pictionary night. It was brilliant.
My dad fought the idea, being sort of Pictionary-impaired, but he was outvoted. Anyway, the more interesting thing than who is a good artist is watching how each person chooses to communicate their ideas.
I was bragging up how great I was going to be because I've been practicing by playing Draw Something on my phone. I kind of love this game. It's basically just like Pictionary, except it's a one-on-one game. Not even one-on-one, more like one-with-one, because you play more as a team than as opponents.
Which is why I don't mind "cheating." At least, that's what Robb calls it. He hates that in a game called "Draw Something" I would add letters, numbers, symbols, names, and even entire words. Every time I play it, he looks over my shoulder and tells me I'm cheating.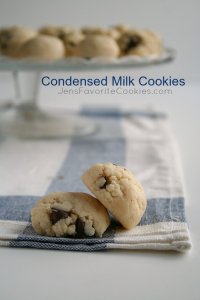 And then I tell him that he's lying. It's like a game of ethical one-up-manship between us. Or one-down-manship.
I mean, sometimes a girl just has to cheat a little to stay sane. Sometimes she has to hide dirty dishes in the oven, or run the dress shirts through the dryer with a wet towel rather than iron them.
And sometimes she makes three-ingredient cookies.
Here's the story with the three ingredient cookies. The three ingredients are: butter, flour, and sweetened condensed milk. The flour, however, should be self-rising flour. I didn't have any self-rising flour in my pantry, so I… well… I cheated.
Yep. Made my own self-rising flour with regular flour and baking powder. So now they're four-ingredient cookies. And if you add chocolate chips, they're five-ingredient cookies. And you can't NOT add salt, so… FINE. I lied when I called them three-ingredient cookies. It was a big fat cheat all the way around. I admit it.
Happy, Robb?!
By the way, I did NOT cheat at Pictionary, I kind of rocked it. Except for the word porpoise. How do you get someone to guess the word porpoise? I drew a porpoise, but everyone on my team just kept guessing the word dolphin over and over again.
The cheaters.
A recipe for three-ingredient cookies made with sweetened condensed milk.
Category: cookies
Yield: 3 dozen
Ingredients
1 cup butter, softened
½ cup sweetened condensed milk
2 cups all-purpose flour
3 tsp. baking powder
½ tsp. salt
½ cup chocolate chips
More
Enjoy Life Semi-Sweet Chocolate Chips, Gluten, Dairy, Nut & Soy Free, Mini Chips, 10-Ounce Bags (Pack of 6)


Grocery (Enjoy Life)




Pack of six, 10-ounce bags (total of 60 ounces)
Certified gluten free
No wheat, dairy, peanuts, tree nuts, egg, soy, fish or shellfish also made without casein, potato, sesame and sulfites
No trans fat or cholesterol, certified kosher, vegan - no preservatives, all natural
Made in a dedicated nut- and gluten-free bakery
Contains evaporated cane juice, chocolate liquor, and non-dairy cocoa butter
Soy free, semi sweet chocolate chips
Soy free, semi sweet chocolate chips
Popular Q&A
What is the recipe that has chocolate chip cookies soaked in milk? | Yahoo Answers

EAGLE BRAND WHITE CHOCOLATE FUDGE...
INGREDIENTS.........
1 1/2 pounds premium white chocolate or confectioners' coating 1 (14 ounce) can EAGLE BRAND Sweetened Condensed Milk (NOT evaporated milk)
Dash salt
1 1/2 teaspoons vanilla extract
1 cup chopped nuts
DIRECTIONS
In heavy saucepan, over low heat, melt chocolate with EAGLE BRAND and salt. Remove from heat; stir in vanilla and nuts. Spread evenly into wax paper lined 8- or 9-inch square pan.
Chill 2 hours or until firm. Turn fudge onto cutting board, peel off paper and cut into squares. Store leftovers tightly covered at roo…
What is a chocolate chip recipe?
Original Nestle Toll House Chocolate Chip Cookies: * 2 1/4 cups all-purpose flour * 1 teaspoon baking soda * 1 teaspoon salt * 1 cup (2 sticks) butter, softened * 3/4 cup granulated sugar * 3/4 cup packed brown sugar (MORE?)