Milk chocolate Fondue recipe for kids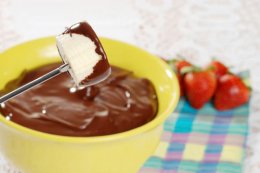 Brooke McLay
Fondue is usually thought of as a high-end treat, reserved for dinner dates and haute cocktail parties. But, it's also a quick, simple and clever way to sneak healthy after school snacks into your kids' diet.
Cheese fondues are a great way to encourage your children to eat vegetables. Carrots, celery and even broccoli tastes better when you get to dip it into a hot bowl of creamy cheese fondue. Fruit tastes especially decadent when paired with a kid-friendly fruit fondue, filled with the flavors of Greek yogurt and fluffy whipping cream. And, chocolate fondue tastes especially delicious when paired with vitamin-C rich strawberries, orange slices and crisp apples. Served with long skewers (for older kids) or cocktail toothpicks (for younger children), after school fondue is a fun, easy way to welcome your kids home from a long day at school.
Each of these recipes can be made in just minutes, and is 100 percent kid-approved. When making the chocolate fondue, keep in mind that some children don't like the bitter flavor of semi-sweet chocolate chips, however, milk chocolate chips make for a super-sweet fondue. Try combining a half cup of semi-sweet chocolate chips and a half cup of milk chocolate chips for the perfect, palate pleasing flavor.
Ingredients:
1 cup milk
1-1/2 tablespoons all-purpose flour
3 cups shredded cheddar cheese
1/2 teaspoon onion salt
1/2 teaspoon garlic powder
Directions:
In a large, microwave-safe bowl, stir together all ingredients until well-mixed. Microwave for 1 minute, stir.
Return to the microwave for an additional 30 seconds, remove and stir again. Repeat until cheese is smooth and melted.
Serve with carrot and celery sticks, broccoli, pretzels, sliced hot dogs on toothpicks, apples and strawberries.
Ingredients:
1/2 cup heavy cream
1 cup chocolate chips
1/2 teaspoon pure vanilla extract
Pour cream into a microwave safe bowl, and microwave until steaming.
Add chocolate chips and vanilla allowing them to melt slightly before whisking the mixture together until smooth and creamy.
Serve with strawberries, apple slices, orange slices, marshmallows, pretzels and graham crackers.
2 cups Cool Whip
1/2 cup strawberry yogurt
In a medium bowl, stir together yogurt and whipping topping until creamy.
Serve with apple slices, strawberries, pineapple slices, bananas, graham crackers and brownie bites.
More