Hot chocolate recipe powdered milk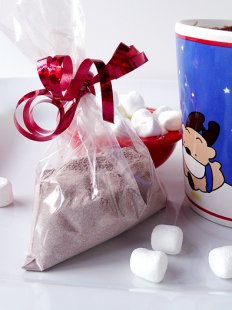 Hot chocolate is my absolute favorite cold-weather drink. I don't drink coffee and things like tea, apple cider, eggnog, etc. definitely take a back seat to chocolate. I get it from Starbucks, at hockey games, at orchards, and I use mixes at home (my favorite is Land o' Lakes Supreme). But for the longest time I've been meaning to try whipping up my own homemade mix to have on hand throughout the winter. And boy am I glad I did. This is some of the best hot chocolate I've ever had. It's thick, creamy and super chocolatey. Perfect for topping with whipped cream or mini marshmallows. And also perfect to give as holiday treats!
This is super simple to mix together and would be wonderful to package in festive baggies or jars to give as holiday gifts. The ingredients combine to make some absolutely excellent hot chocolate. The dry milk powder adds a sweet dairy flavor, especially when mixed together with the additional hot milk; the powdered sugar dissolves quickly and helps to thicken the hot chocolate; and the white chocolate gives it a creamy texture and amps up the chocolate flavor.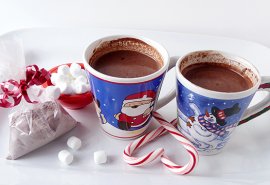 Whether you give this away as a gift or keep it all for yourself, it's certainly a wonderful treat for whoever gets to enjoy it!
One year ago: Date Nut Spice Bread
Homemade Hot Cocoa Mix
Yield: About 20 servings
Prep Time: 10 minutes
Total Time: 10 minutes
Ingredients:
3 cups nonfat dry milk powder
2 cups powdered sugar
1½ cups cocoa powder (Dutch-processed preferred, but regular okay)
1½ cups white chocolate chips (or chopped white chocolate)
¼ teaspoon salt
Directions:
1. Whisk together all ingredients in a large bowl. Working in two batches, pulse the ingredients in a food processor until the chocolate is finely ground. Store in an airtight container for up to 3 months.