Hot chocolate recipe with powdered milk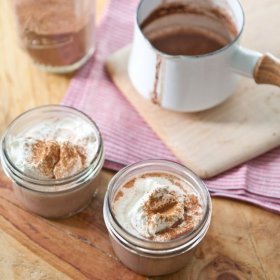 I secretly love those little packets of hot cocoa mix — but I recently decided to quit buying them and start making my own. The nice thing about making your own hot cocoa mix is that you have free control over what goes into it (and what stays out of it). Like yours super chocolatey? No problem. Want to take down the sugar and add a bit of cayenne and cinnamon? Do it.
Today, I'm sharing my recipe for basic hot cocoa mix, plus a few suggestions for mix-ins that I've been loving lately.
The basic mix itself should stay fresh for at least 4 to 5 months if kept stored in an airtight container, out of direct sunlight, and at room temperature — no need to refrigerate. (I should say that the mix I make never sits around in our cupboards that long, since we drink it up, but there's nothing that would go terribly rancid here or that I'm worried would spoil).
All winter, I've also been sipping Theo's drinking chocolate. I initially fell for it because it contains actual chunks of chocolate — it's not a dusty, dry powder. So for my homemade recipe, I decided to hand-chop some chocolate so it would be more in line with Theo's delicious mix. If you're pressed for time, you could chop the chocolate in a food processor instead; I just like the uneven nature achieved by hand chopping it.
What else do I love about this particular mix? It doesn't shy away from the chocolate. In addition to the hand-chopped chocolate, I add some Dutch-processed cocoa powder for even more chocolate flavor. I also use coconut sugar to sweeten the mix, which gives the cocoa a dark, earthy, and almost caramelly flavor. (This said, feel free to use turbinado sugar or any other sugar you like or find convenient to track down.)
Since I'm still a DIY hot cocoa newbie, in a sense, I'd love to hear any suggestions from you. Do you make your own mix at home? What have you been adding to yours that makes you happy?
Amp Up Your Mix!
Top off your hot cocoa with:
Pinch cayenne pepper


Pinch ground ginger

Pinch ground cardamom

1/8 teaspoon ground espresso

Pinch ground black pepper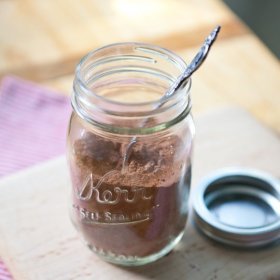 Super chocolatey hot chocolate made from your own homemade mix!
Makes 1 3/4 cup mix (about 6 servings)
What You Need
Hot Cocoa Mix:
3 ounces bittersweet chocolate (60% or greater)
1/2 cup unsweetened Dutch-process cocoa powder
1/2 cup coconut sugar (or Turbinado sugar)
3 tablespoons powdered milk
1/8 teaspoon sea salt
To Make 1 Cup Hot Cocoa:
1 cup milk, soy or nut milk of your choosing, or water
3 tablespoons Hot Cocoa Mix
Whipped cream, optional, to top
Ground cinnamon, optional, to top
Equipment
Chef's knife
Cutting noard
Airtight jar for storage
Heavy-bottomed pan
Whisk
Instructions
Chop the chocolate: Chop the bittersweet chocolate finely. Measure out all the other ingredients.

Mix the cocoa ingredients: In a medium bowl, stir together ingredients. Make sure to incorporate the salt and powdered milk thoroughly.

Store in an airtight jar: Pour mixture into airtight jar for storage. Store at room temperature for up to 3 months.

To make the cocoa: Get out a heavy-bottomed pan. Measure out 3 tablespoons of your mix and add it to 1 cup of milk (or soy/nut milk or water). Gently warm over medium heat and whisk to incorporate the mix into the milk.

Serve the hot cocoa: Pour the hot chocolate into serving cup (s) and enjoy immediately. Top with whipped cream and cinnamon if you'd like.
Recipe Notes
If you want a richer hot chocolate more in the style of a drinking chocolate, follow directions above but use 3/4 cup milk instead of 1 cup.
Want more smart tutorials for getting things done around the home?
More