Best milk chocolate frosting recipe
I've been dreaming about milk chocolate buttercream since I first whipped up that White Chocolate Buttercream for Son #1′s birthday last year. The kid loves white chocolate, so I had to come up with something special just for him. I had no idea that the recipe would become the most sought after recipe on my blog. Who knew?
Popularity aside, I am a steadfast Milk Chocolate Girl. I just love the stuff! So much so, that I always have at least one 6-pack of Hershey's bars in the house in case of emergencies. The satisfying simplicity of milk chocolate can't be beaten with a stick, I tell ya!
I should know, because I ate many a wooden spoonful of milk chocolate buttercream during the recipe development process. This frosting is so light and creamy that it's practically like eating a bowl full of chocolate mousse.
Not that I ate an entire bowl of frosting or anything…although the thought did cross my mind.
For the Milk Chocolate Buttercream, you will need: unsalted butter, four regular Hershey's Milk Chocolate Bars, vanilla, heavy whipping cream, and powdered sugar.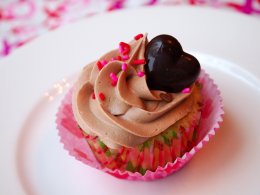 Baking chocolate is fine, but under no circumstances should you use milk chocolate chips or candy melts. The same waxy coating/additives that help the chips/melts retain their shape while baking, and give it sheen after being melted/cooled will do weird things to the frosting. Clumpy, hard bits in the middle of your otherwise creamy and wonderful frosting kind of things. Ergo, Wax = Bad.
Break up the chocolate and place it into a microwave safe bowl.
Heat the chocolate in a microwave in 30 second increments on full power, stirring well in between each burst, until chocolate is melted and smooth. Allow the chocolate to cool.
Once the melted milk chocolate is cool to the touch, sift the powdered sugar over the butter, and cream with a hand mixer until it's nice and fluffy.
Add the vanilla to the whipping cream,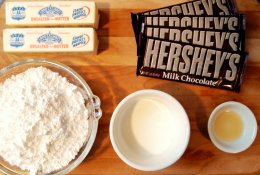 pour the cream mixture into the fluffy butter concoction,
and mix on medium speed for 2 to 3 minutes, or until it's really fluffy. At this point the whipped cream frosting is quite delicious and would be lovely on any cake. I'd be lying if I didn't tell you that I considered frosting the cupcakes at this stage, and make a meal out of dipping everything I could find in the melted milk chocolate. BUT!
My conscience got the best of me, so I poured all that luscious melted milk chocolate to the mix, and mixed it in on low speed for about a minute, until it was all incorporated.
Since I'm apparently all about full-disclosure today, I should also tell you that I ate a spoonful of this loveliness straight from the bowl.
OK…two spoonfuls. And I'd do it again, too! It's so light and heavenly!
Read one more story. Visit engraved new baby gifts.
Pipe the frosting on top cupcakes, a sheet cake, or layer cake. Use it as a filling for sandwich cookies–the possibilities are endless! Whatever you do, be sure garnish with sprinkles because sprinkles make the world a happier place. If you are not going to serve the frosted cake(s) right away, store it in an airtight container in the refrigerator. Allow to sit out at room temperature for 30 minutes before serving.
Fluffy, decadent real milk chocolate buttercream is a dreamy buttercream for filling and frosting cakes and cupcakes.
Author: Kirsten Kubert
Recipe type: frosting, dessert, cake
Cuisine: American
Serves: 2½ cups
Ingredients
1 C. unsalted butter, softened
2 ½ C. powdered sugar (or more, depending on desired consistency)
4 Hershey's Milk Chocolate candy bars (1.55 oz. each), chopped (Do NOT use chocolate chips!)
¼ C. heavy whipping cream
½ tsp. vanilla extract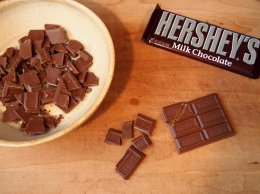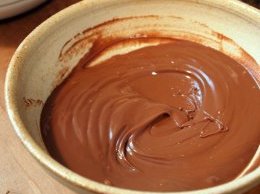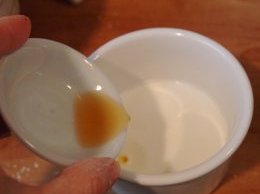 More
FRENCH VANILLA CREME Flavoring by Flavor Essence [2 Ounces- Unsweetened, Natural, Gourmet-Level] Squeeze & Stir into Coffee, Tea, Cocoa, Seltzer, Oatmeal, Yogurt, Batters, Doughs, Cookie/Muffin Mixes
Grocery (Flavor Essence, Inc.)
Beyond extracts-- this is dainty, fresh vanilla with a creamy finish. Behaves as a clean background (secondary) flavor, and is highly versatile for creative people...
Gourmet quality -no allergens, vegan friendly, diabetic friendly, athlete friendly. Its a fun & tasty background flavoring; but its still no nonsense--the flavor...
2 Oz bottles, with a flip top and a portion-controllable reducer so you can easily flavor to your own tastes in beverages or measure precisely into foods. Very...
*Usage 1-- [Will flavor about 24+ servings]. Squeeze & stir to taste into any beverage like coffee, smoothie, shake, cocktail or into prepared foods like yogurt...
* Usage 2-- [Will flavor about 12 batches] Dress up your pancake/waffle/crepe batters, muffin mixes, cookie doughs, cakes & frostings.
Popular Q&A
what is the best recipe for chocolate frosting? | Yahoo Answers
KAHALA'S FLUFFY CHOCOLATE FROSTING
1 stick softened butter
2/3 cup unsweetened cocoa powder, dark looks best
3 1/2 cups powdered sugar
1/3+ cup whole milk
1 tablespoon vanilla or
2 tsp favorite extract
1/4 tsp salt
Mix butter, cocoa powder, and sugar in medium mixing bowl. Slowly add milk and extract. Add more milk a tablespoon at a time until desired texture and volume is reached.