Easy milk chocolate frosting recipe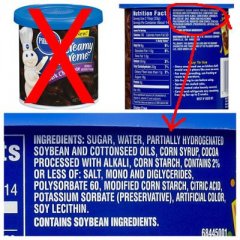 The first time I made this, I got lucky. I threw the ingredients into a bowl, guessed at what quantities might work, and zapped it for 30 seconds in the microwave. It turned out perfectly the first time. Believe me, that doesn't always happen. I often have to do a lot of experimenting to get a new recipe right. This one was a winner right out of the gate.
It's easy, it's a bowl of chocolaty deliciousness, and it's not nearly as bad for me as the ready-made kind.
Say "GOODBYE" to canned frosting!
I used to use canned frosting for the convenience, and I honestly think it tastes pretty good. (Sorry, if I've just offended the foodie police. My bad.) But all it took was turning the can around and reading the ingredients to convince me that I'd never use canned frosting again. Sure, my homemade version has sugar and butter (not exactly health food), but all of my ingredients are familiar, real, and identifiable-no mystery ingredients like the ready-made stuff. The canned kind has artery-blocking partially hydrogenated oil (trans fat), preservatives, and artificial mystery ingredients. Check out the label below and see for yourself.
Almost as easy as opening a can. I mean this only takes one minute to make. Okay, and maybe one more minute to get the ingredients out of the pantry. But, honestly, anyone can make this frosting. Easy and DELICIOUS! I use it to frost brownies, cake, cupcakes, and cookies. Here's how.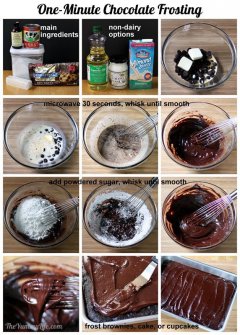 Assemble these ingredients:
chocolate chips - Any will do. I like Ghirardelli Bittersweet 60% Cocoa Chips. There are also non-dairy vegan chocolate chips, if that's how you roll.
canned evaporated milk-This adds smoothness and creaminess. The non-dairy crowd can substitute almond milk (not quite as creamy, but still good).
butter-I prefer butter for the flavor and texture, but you can substitute coconut oil (if you like the flavor), canola oil, or another neutral flavored vegetable oil
vanilla extract
powdered sugar-I haven't tried using alternative sweeteners; feel free to experiment, but I can't guarantee the results.
One Minute Method:
Put everything except the powdered sugar in a microwave-safe bowl. Microwave on high for 30 seconds. (Microwave power can vary-it takes 30 seconds in mine.)
Whisk until smooth. It only takes a few seconds. The butter and chocolate chips will melt into the mixture as you whisk. If they don't, return it to the microwave and zap in 10 second intervals until it will whisk into a smooth mixture. Don't overheat it!
Add the powdered sugar and whisk again until evenly mixed and smooth. Again, this only takes seconds.
Done! So fast and easy.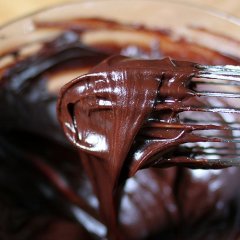 You can view the kitchen gear I used on Amazon:
mixing bowls, wire whisk, frosting spatula
Stove-top method. You can also heat the ingredients (everything except the powdered sugar) over the lowest heat in a pot on top of the stove. Stir constantly until everything melts together and the consistency is smooth. Remove from heat and whisk in the powdered sugar until smooth.
Spread while it's warm. It goes on more smoothly and easily that way. If it cools off and thickens too much before you're ready to use it, just zap it for a few second in the microwave, stir, and spread.
Double the recipe, if you like. This makes enough for a thin coating of frosting on a 9x13 cake or pan of brownies-just the right amount for my taste. If you like a thicker layer of frosting, simply double the ingredients and follow the same procedure.
Make other flavors, too! This same method can be used to create other frosting flavors. All you have to do is swap out the chocolate chips for other flavors of baking chips. White chips for a vanilla frosting. Peanut butter chips for a peanut butter frosting. Butterscotch chips for a butterscotch frosting. Get the idea? You can also stir in cinnamon or other sweet spices, substitute other extracts for the vanilla, or add maple syrup or molasses. There are endless possibilities!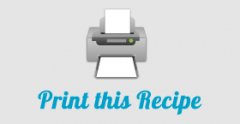 Nutritional Info (per tablespoon of frosting): 78 calories, 4.2g fat, 11.2g carbs.7g fiber.2g protein; Weight Watchers PtsPlus: 2
Enjoy! Frost cakes, brownies, cupcakes, or cookies. Or, you may be tempted to eat it with a spoon. That's encouraged allowed, too.
If you come up with any new flavor combos or modifications to make it vegan, sugar-free, or whatever, please share in the comments section below. I love hearing from you, and everyone can benefit from the exchange of ideas.
Make it a Yummy day!
Monica
Easy Chocolate Frosting
By Monica Servings: Make 1-1/4 cups
Ingredients
1 cup semisweet or bittersweet chocolate chips
1/4 cup canned evaporated milk (may substitute almond milk, if desired)
2 tablespoons butter (may substitute coconut, canola or vegetable oil, if desired)
1/2 teaspoon vanilla extract
1 cup powdered sugar
Directions
Combine chocolate chips, evaporated milk, butter and vanilla in microwave-proof bowl. Microwave on full power for 30-40 seconds. Remove and whisk until chocolate chips melt in and mixture is smooth (return to microwave for a few seconds if necessary). Add powdered sugar and continue whisking until smooth.
SPREAD WHILE IT'S WARM. It goes on more smoothly and easily that way. If it cools off and thickens too much before you're ready to use it, just zap it for a few second in the microwave, stir, and spread.
DOUBLE IT. Recipe makes enough for a thin layer of frosting on a 9x13 cake or pan of brownies. Recipe may be doubled, if a thicker frosting layer is desired.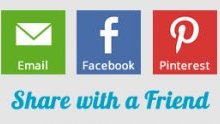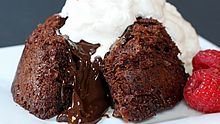 More
Duncan Hines Brownie Mix, Milk Chocolate Chunk, 17.6 Ounce (Pack of 6)


Grocery (Duncan Hines)




Moist and delicious brownies with the creamy taste of milk chocolate
Made with real chocolate chunks
Whip up an easy dessert in no time
The perfect way to satisfy your sweet tooth
So moist, so delicious, and so much more
Popular Q&A
What is a recipe for easy chocolate frosting.
1 1/2 c. sugar, 6 tbsp. cornstarch, 6 tbsp. cocoa, 1/8 tsp. salt, 1 1/2 c. boiling water, 4 tbsp. butter, 1 1/2 tsp. vanilla etc
Is there an easy recipe to make chocolate frosting?
Chocolate Frosting: 3 c. powdered sugar, 3/4 stick butter or 5 heaping tbsp. vegetable shortening, 1/2 tsp. vanilla or other flavoring, 3 tbsp. milk Dry chocolate. Mix well or use blender until fluffy.