Fudge recipe condensed milk marshmallow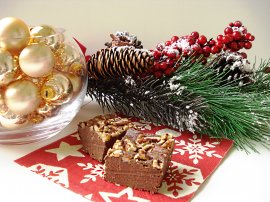 Have y'all heard of Fantasy Fudge? It's the recipe for fudge on the back of the marshmallow creme jar. We Southerners have a strong affinity for recipes printed on food labels. The pumpkin pie on the Libby's can, the green bean casserole on the French's onion can, Rotel dip on the Velveeta package, Toll House cookies on the chocolate chip bag, I could go on. But doesn't it seem like as soon as the recipe becomes well-liked, the company changes the recipe? This leaves us frantically searching for the original label. I know your grandma has food labels in her recipe collection. Mine sure did. My grandma even kept old electricity bills because the company sent recipes with each month's bill. Wouldn't it be nice if they still did that? It would sure soften the blow on a cell phone bill when you talked or texted too much.
My fudge is even easier than Fantasy Fudge because I'm not going to make you wrestle with boiling sugar while you desperately try to scrape sticky marshmallow creme out of the jar. It might be worth it for a big batch, but when all you want is a few bites of fudge, let's take the easy way out, shall we?
Print Recipe
Ingredients
9 ounces semi-sweet chocolate chips
5 ounces sweetened, condensed milk (not light or fat free)
3.5 ounces marshmallow creme
3/4 teaspoon vanilla
1/3 cup chopped, toasted pecans
Instructions
Line a 9" x 5" x 3" loaf pan with foil, then butter the foil.
In a double boiler or a glass bowl over a pan of simmering water, melt the chocolate chips and condensed milk. Stir occasionally.
Meanwhile, add the marshmallow creme to a large bowl on a scale. (Trust me, the neatest way to do this is to use a scale and scoop the creme directly into the bowl you will be mixing the other ingredients in).
When the chocolate is melted, pour it over the marshmallow creme. Fold the mixture together until no white streaks remain. Add the vanilla and blend well. Stir in the pecans or save them for the top, your choice.
Scrape the mixture in the loaf pan. Chill the pan in the fridge for several hours, then let it come to room temperature before slicing and serving.
More
ORGANIC PROTEIN POWDER Plant-Based (Fair Trade Creamy Chocolate Fudge) by MARYRUTH - Vegan, Gluten Free, Non-GMO, Soy Free, Dairy Free, Nut Free, No Fillers, No Additives, Paleo Friendly 16.3 oz


Grocery (MaryRuth Organics)




CREAMY CHOCOLATE FUDGE: Tastes Exactly Like Chocolate! For Children, Teenagers, and Adults! Excellent tasting in smoothies and baking. MaryRuth Organics is known...
NO fillers, NO binders, NO additives, NO whey, NO grains, NO soy, NO dairy, GLUTEN FREE, VEGAN, PALEO FRIENDLY, CERTIFIED ORGANIC
16.3 Oz. Excellent Taste. Made of ONLY 6 of the highest purity ingredients. CERTIFIED USDA ORGANIC and FAIR TRADE ingredients.
Made from 100% Organic Pumpkin Seeds. Other Ingredients: organic cane sugar, organic fair trade cocoa powder, organic natural chocolate flavor, organic natural vanilla...
Contains 14g of protein per serving ( to support lean body mass and healthy body. Highly digestible. Excellent source of protein.