Macaroni and Cheese with evaporated milk recipe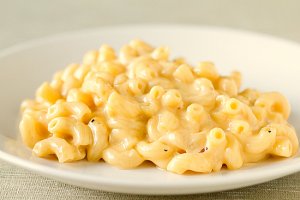 The 30 days of macaroni and cheese are back! Every January for the last few years I have teamed up with the Wisconsin Milk Marketing Board to share a new macaroni and cheese recipe with you in conjunction with their blog, 30 Days, 30 Ways with Macaroni and Cheese. No one needs to twist my arm to try new macaroni and cheese recipes and this year was no exception. I am typically a big fan of baked macaroni and cheese – the combination of ooey gooey mac and cheese and the crusty pieces on top and around the edges really is phenomenal. That being said, I realized recently that I was still lacking a recipe for a quick stove-top version. Up until this recipe, if I was craving mac & cheese and wasn't up to putting together a whole baked recipe, I would run to the store for a box of the blue stuff to get my fix (hanging my foodie head in shame). No more!
Much like any other macaroni and cheese recipe, you can customize these cheeses to suit your tastes, but I really like the combination of mild cheeses here. I've played around with other cheese varieties in dishes such as Grown Up Mac and Cheese and Mushroom-Herb Macaroni and Cheese, but for this quick stove-top version I stuck with a mix of mild cheeses that created a familiar taste and texture to what most of us grew up eating as kids. When it comes to comfort food, simple is most often best You could always use all of one cheese if you'd like, or adjust the ratios. Enjoy and be creative!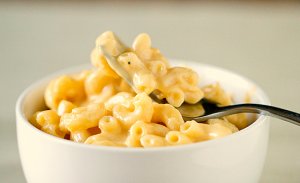 What's your favorite macaroni and cheese recipe?
One year ago: Caramelized Onion, Mushroom & Gruyere Tartlets
Classic Vanilla Ice Cream
Yield: 4 servings
Prep Time: 20 minutes
Cook Time: 20 minutes
Total Time: 40 minutes
Ingredients:
2 eggs
1 (12-ounce) can evaporated milk, divided
1 teaspoon dry mustard
1 teaspoon water
½ teaspoon salt, plus additional 1½ teaspoons for pasta water
¼ teaspoon ground black pepper
8 ounces (2 cups) elbow macaroni
4 tablespoons unsalted butter
4 ounces mild Cheddar cheese, shredded (about 1 cup)
4 ounces American cheese, shredded (about 1 cup)
4 ounces Monterey Jack cheese, shredded (about 1 cup)
Directions:
1. In a small cup, dissolve the dry mustard in the water; set aside.
2. In a medium bowl, whisk together the eggs, 1 cup of the evaporated milk, dry mustard mixture, salt, and pepper; set aside.
3. Bring 2 quarts of water to a boil in a large Dutch oven. Add the pasta and 1½ teaspoons salt and cook, stirring often, until al dente. Drain the pasta and return to the pot over low heat. Add the butter and stir until completely melted.
4. Add the egg mixture and three-quarters of the cheese mixture to the pasta and toss until thoroughly combined and the cheese starts to melt. Gradually add the remaining evaporated milk and remaining cheese mixture, stirring constantly, until the mixture is hot and creamy, about 5 minutes. Serve immediately.
More
Carnation Famous Fudge Kit, 15.5 Ounce Kit


Grocery (Nestle USA)




Carnation Famous Fudge Kit
Each Kit Includes:CARNATION® Evaporated Milk NESTLÉ® TOLL HOUSE® Semi Sweet Morsels Sugar Mix Marshmallows RED TRAY for preparation and gift giving Just add Butter
CARNATION® Famous Fudge is a classic recipe that has been around for decades.
This recipe, followed by generations of cooks and bakers, is widely used as a sweet homemade gift.
CARNATION has filled America s pantries for over 100 years.