Chicken evaporated milk recipe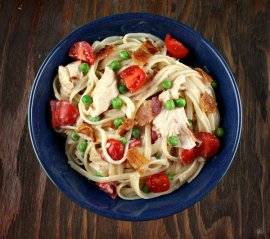 Chicken Alfredo
I'm a regular, fat-filled, alfredo-eating fanatic. Sure, I'll admit that. I order it up in restaurants whenever I feel that my hips can take it. But if you've come here hoping to find a most decadent creamy alfredo dish- the kind that you can only have once in a while since its nickname is often "heart attack on a plate"- well then, you may be disappointed. BUT since you're already here… you should at least check out what I DO have to share. I made a lightened- up version of Chicken Alfredo. There is not heavy cream or multiple sticks of butter in this dish, but the sauce is still creamy and cheesy and reminiscent of the real thing (with no talk of impending heart-attacks). It's much better for you than the real deal.
I snuck in a few extras too… like tomato and peas and BACON. Here's the simple how-to:
Saute garlic in a little bit of butter and olive oil.
Whisk in some flour.
And red pepper flakes for flavor and a tiny bit of kick. Just a tiny.
Add evaporated skim milk (NOT condensed milk and NOT regular milk- you need the stuff in the can… it will make your sauce richer and thicker). You'll add some regular milk too. That mixture is simmered and stirred until it thickens up slightly…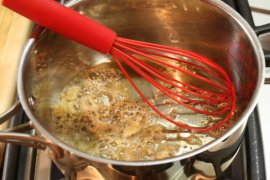 …and then whisk in some Parmesan cheese, salt and pepper. That's it! The sauce is done. It's a versatile sauce that will thicken more when taken off the heat. If it gets too thick, just add in a little more milk or chicken broth.
Toss the sauce in a bowl with hot cooked fettuccine and chicken. Here's the basic version, which kids usually like best.
And here are the optional add-ins (which I highly recommend!): tomato, bacon and peas. If you have a picky family, you could always keep them on the side and let individuals add what they wish.
Personally, I like the "add everything" option.
It has bacon in it! It's gotta be good, right?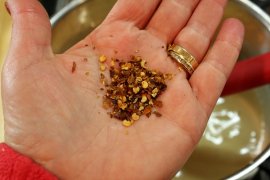 4 servings
Prep Time: 25 min
Cook Time: 25 min
This is a lightened up version of Chicken Alfredo.
Ingredients:
1 tablespoon salted butter
2 teaspoons extra-virgin olive oil
4 medium garlic cloves, minced
3 tablespoons all-purpose flour
1/4 to 1/2 teaspoon red pepper flakes (as desired)
One 12-ounce can evaporated skim milk, warmed
1/2 cup nonfat milk, warmed
1/2 cup grated Parmesan cheese
1/2 teaspoon salt
1/4 teaspoon freshly ground black pepper
up to 1 cup chicken broth or additional milk, for thinning (as needed)
16 ounces fettuccine noodles, cooked according to package directions
2 cups cooked chicken, cut into bite- sized pieces
optional add-ins: cooked and crumbled bacon, chopped tomato, peas
Directions:
1. Prepare the sauce: In a medium saucepan, heat the butter and oil over medium heat. Add the garlic and cook until it is fragrant and lightly browned, about 1 minute. Whisk in the flour and red pepper flakes and stir until flour is lightly browned.
2. Very gradually add the warmed evaporated milk, whisking it into the flour a little at a time. Add the other milk too. Heat the mixture until boiling, whisking constantly (as you whisk, the flour will begin to dissolve into the warmed liquid). Then turn down the heat to a simmer and whisk in the cheese, salt and pepper. Continue to simmer, stirring often, until the sauce has thickened a bit (it will thicken more upon standing too). If it happens to become too thick, just thin it out a little with some chicken broth or more milk.
3. Assemble your pasta dish: Place hot pasta in a large serving dish. Pour sauce over and add chicken. Toss together until everything is coated with the sauce. Add salt and pepper, as desired. Add optional add-ins of bacon, tomato and/or peas, as desired.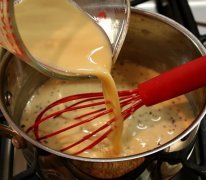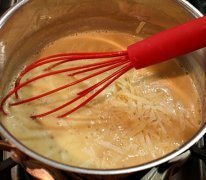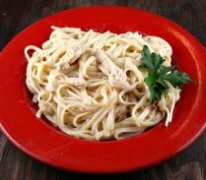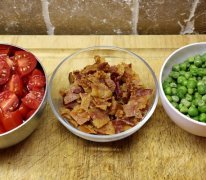 More
Popular Q&A
What can you replace evaporated milk with in a recipe.
You can use regular milk, just use half the amount, may need to boil it down first if you are baking with it. If not just add and boil a little longer to remove the extra water from the regular milk.-out!