Pet evaporated milk Recipes
> > > > >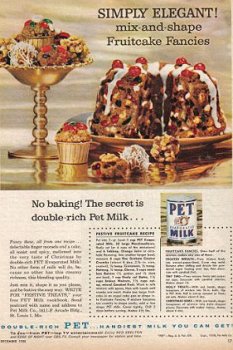 Family Weekly Magazine Recipe for Pet Cake
The PET Festive Fruitcake recipe started appearing in American magazines and newspapers by at least 1954 (based on reputed sightings in the Farm Journal in 1954.)
The goal of the recipe was to promote the use of PET Evaporated Milk as an ingredient in holiday cooking.
The recipe first appeared in magazines as an almost full-page advertisement, then was carried for years at American holiday time on the side of tins of the evaporated milk.
It became wildly popular. Many grocery stores based entire newspaper ads on the ingredients for it.
Many American families now count it as part of their holiday "traditions."
A similar recipe, just called "Festive Fruitcake", appeared on page 7 of the Modesto Bee on Saturday, 18 December 1954, calling for just "evaporated milk" instead of "PET" milk. It advised that "Alcoholic flavoring can replace the orange juice if desired."
In 1956, National Brands Stores ran ads in local papers picking up on the popularity of the recipe. (The ad shown appeared in the The Zanesville Signal. Ohio. Monday, 17 December 1956. Page 9. Note the mispelling of the word "recipe.")
In subsequent years, other stores such as IGA in Santa Fe, New Mexico in 1958 would pick up the same idea.
Family Weekly Magazine 1958 Promotion
In November 1958, Family Weekly Magazine showed a full-colour picture of all the items that could be made from the one recipe. The one shown is from: Family Weekly Magazine, 30 November 1958, p 6. It was carried in the Post-Register of Idaho Falls, Idaho, on Sunday, 30 November 1958.
The ad was 8 x 11 inches, and read as follows:
"Fancy these, all from one recipe... delectable finger morsels and a frosted cake, all moist and spicy, mellowed into the very taste of Christmas by double-rich PET Evaporated Milk! No other form of milk will do, because no other has this creamy richness, this special blending quality. Just mix it, shape it as you please, and be festive the easy way. WRITE NOW FOR "FESTIVE TREATS, " your free PET Milk cookbook. Send postcard with name and address to Pet Milk Company, 1619-F Arcade Building, St. Louis 1, Mo.
FESTIVE FRUITCAKE RECIPE
Put into 3-qt. bowl 1 cup PET Evaporated Milk, 32 large Marshmallows, finely cut (or 4 cups of the miniatures) and 6 Tablesp. Orange Juice or alcoholic flavoring. Into another larger bowl, measure 8 cups fine Graham Cracker Crumbs (about 8 doz. 2 1/2-in. size, crushed), 1/2 teasp. Cinnamon, 1/2 teasp. Nutmeg, 1/4 teasp. Cloves, 2 cups seedless Raisins (1/2 golden and 1/2 dark are best), 1 cup finely cut Dates, 1 1/2 cups broken Walnuts, 1 1/2 cups cut-up, mixed Candied Fruit. Work in milk mixture with spoon, then with hands until crumbs are moist. Make one large fruitcake in an angel cake pan or shape into Fruitcake Fancies. If mixture becomes too crumbly to shape easily, add a few drops PET Milk. Cover tightly. Chill 2 days before serving. Makes 4 1/2 Ibs.
FRUITCAKE FANCIES. One-half of the mixture makes any one of these:
FROSTED WREATH — Press mixture firmly into waxed-paper-lined, 5-cup ring mold. Remove after chilling and drizzle thin powdered sugar frosting, over top, then decorate with candied fruit.
TINY TIMS — Press mixture firmly into paper nut (sic) cups. Decorate with candied cherries. Makes about 18.
HOLLY TREATS - With wet hands, shape teaspoons of mixture into 3/4 inch balls. Dip In PET Milk. Roll in cut-up coconut or finely cut nuts. Makes about 6 dozen.
CHRISTMAS GEMS—With wet hands, shape teaspoons of mixture into date-shaped pieces. Decorate with walnut halves. Makes about 6 dozen.
To you—from PET—top TV entertainment! Enjoy RED SKELTON and EDGE OF NIGHT over CBS-TV... consult your newspaper for station and time.
1961 Version
National Brands Recipe
Here is a 1961 version from the Mansfield News Journal of Mansfield, Ohio. 3 December 1961:
Pet Evaporated Milk, 12 Ounce (Pack of 24)


Grocery (J.M. Smucker Company)




Vitamin d added.
Real milk.
2007 chefsbest best taste award.*
Pumpkin pie recipe.
Popular Q&A