Evaporated milk Macaroni and Cheese recipe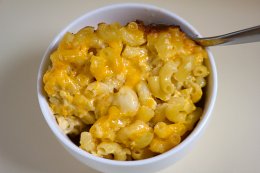 Welcome to January, the month for Macaroni and Cheese! Last year the Wisconsin Milk Marketing Board asked me to contribute a recipe to help celebrate, and I shared the Mushroom-Herb Macaroni and Cheese. This year the Board is hosting another month-long celebration, and I was happy to whip up more homemade mac n' cheese to take part in the festivities. All of the homemade macaroni and cheese recipes I have made up until now use a white sauce as a base made with butter, flour and milk. This recipe utilizes a shortcut to create that creamy base, and it results in a much quicker prep time (with fewer pans to wash), and a fabulous flavor and texture.
Instead of the typical roux, this recipe uses eggs and evaporated milk to give the macaroni and cheese that rich and creamy goodness. I also love the combination of cheeses in this particular recipe. I've never used Parmesan in a macaroni and cheese recipe, but it adds a great balance to the creamy cheeses and a little bit of a tang. Perfect! I think this is a great "base" recipe that you could change up in countless ways to adapt to your tastes – add bacon, mushrooms, sausage, your favorite herbs, etc. I adore macaroni and cheese recipes because the sky is the limit. That and, you know, cheesy carbs. Mmmm…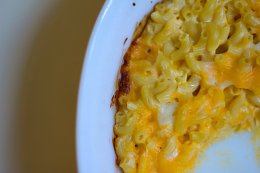 Now for the quick and easy part… Here are your cast of characters:
Add the cheeses to the egg and milk mixture:
Mix together the cheeses and the milk and egg mixture:
Add the cooked macaroni:
Mix it up and pour into the baking dish:
Bake it up and enjoy!
Disclaimer: This post was sponsored by the Wisconsin Milk Marketing Board. I received compensation for ingredients and my time.
Yield: Serves 6
Prep Time: 15 minutes
Cook Time: 12 minutes
Total Time: 30 minutes
Ingredients:
1/2 pound elbow macaroni
1 tablespoon butter
2 cloves garlic, minced
3 eggs
1 can (12 ounces) evaporated milk
1/2 teaspoon salt
1/4 teaspoon cayenne pepper
1 1/2 cups (6 ounces) shredded Wisconsin Sharp Cheddar Cheese
1/2 cup (2 ounces) shredded Wisconsin Monterey Jack Cheese
1/2 cup (1 ounce) grated Wisconsin Parmesan Cheese
Directions:
Preheat oven to 475°F. In a large pot of boiling salted water, cook the macaroni for 6 minutes (will be cooked to al dente). Drain.
Meanwhile, heat a small skillet over medium heat and melt the butter. Add the garlic and cook until fragrant, about 1 minute. With a slotted spoon, remove the garlic to a medium bowl. Add the macaroni to the bowl and stir to combine.
In a large bowl, whisk together the eggs and evaporated milk. Add the salt, cayenne pepper and cheeses; mix well. Add the macaroni mixture and stir well to combine.
Transfer mixture to an 8- or 9-inch square baking dish or 2-quart gratin dish. With a spoon, gently spread mixture to form an even layer. Bake just until sauce bubbles at edges, about 12 minutes. Let rest for 10 minutes before serving.




More