Evaporated milk jelly recipe
I saw this recipe for the first time last summer when one of the Sunday Supplements was running extracts from Sophie Dahl's new book. I was quite taken with the idea of it (it's pink and camp, what's not to love?) and so I asked mum if she fancied it for dessert one night. Apparently she used to eat it all the time when she was a child, it was one of the great post war puddings!
Since then it has entered the repetoir in two forms. If we're being lazy or in a rush then it's just Carnation Milk Jellies (although any brand works just as well!) This takes all of 5 minutes to whip up and then you just shove it int he fridge and forget about it until dinner time. If you have a little more time on your hands, out comes the electric whisk and it is whipped up into a fluffy cloud of pink goodness, also known as Jelly Fluff! The flavour is the same but the textures are very different. Also the Jelly Fluff goes a lot further as you give it more volume.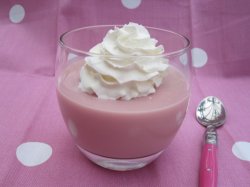 Makes 4 (6-8 if going for Jelly Fluff) Dependent upon size of glasses/bowls.
2x135g packs of jelly (raspberry or strawberry)
250ml boiling water
1x410g tin of evaporated milk
– Cut the jelly into small chunks and put them in a large, microwaveable jug.
– Add the boiling water and whisk until the jelly is starting to dissolve.
– Microwave in 30 second bursts, whisking in between, until the jelly is completely dissolved.
– Add the evaporated milk and whisk until totally combined.
(- Transfer to a larger bowl and beat with an electric whisk until thick and fluffy.)
– Pour into your chosen serving dishes/glasses.
– Chill in the fridge (keeping them flat) for at least 2 hours, preferrably longer, until totally set.
– Decorate with whipped cream, sprinkles and whatever else you like. Camp is the order of the day here!
More