Butter Chicken recipe with coconut milk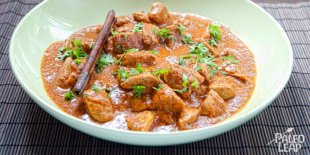 This Indian specialty is so good, I can't even begin to tell you how. It's almost criminal. Also known as Murg Makhani, its name comes from the heavy use of savory butter of Ghee (clarified butter). The original recipe calls for yogurt, but we'll substitute the yogurt with coconut milk, which will be just as good.
This recipe is very easy to make and won't ask too much of your time. You can make it as hot or as mild as you like depending on your preferences by changing the amount of chili powder you put in. The secret to the great taste of this recipe is in the blend of spices used.
Butter Chicken Recipe
This recipe serves about 4 people.
Ingredients
2 x 2 tbsp of pastured, grass-fed butter (We always end-up using more since we know it's so good for our health);
About 1 kg chicken cut into chunks;
2 tsp garam masala;
2 tsp paprika;
2 tsp ground coriander;
1 tbsp grated fresh ginger;
1/4 tsp chili powder (adjust to taste);
1 cinnamon stick;
6 bruised cardamon pods;
1 can of tomato puree (you can easily puree your own tomatoes if they are meaty enough);
3/4 cup coconut milk;
1 tbsp fresh lemon juice;
Preparation
Heat a pan, add the first 2 tbsp of butter and stir-fry the chicken chunks. You can cook them in 2 batches if your pan is too small.
Remove the chicken from the pan.
Put the second 2 tbsp of butter and slowly heat the spices for a minute or two until you can smell the aroma.
Put the chicken back in the pan and stir so you mix in all the spices with the chicken.
At this point, add the tomatoes and simmer for about 15 minutes. Stir from time to time.
Add the coconut milk and lemon juice and let it simmer for another 5 minutes.
Enjoy without guilt! Garnish with fresh herbs and a stick of cinnamon for extra fanciness points.
The best way to always be prepared for recipes that rely heavily on spices like butter chicken is to buy a good assortment of spice all at once. It will seem to cost you a arm and a leg, but it should last almost forever and you'll never be angry because the recipe calls for that one special spice you happen not to have.
More
Spice Union Garam Masala Blend, 3 Ounce


Grocery (River's Bend, LLC)




Works great as a dry or wet rub on chicken, lamb, fish, seafood or vegetables
Hand crafted in small batches to ensure quality-spice union spice blends are all natural-no msg-no fillers-no anti-caking agents-no nitrates or other preservatives
Simply spices and herbs in each premium blend from spice union
An exotic blend of Indian cuisine spices that will awaken your taste buds and bring a unique experience to your pallet
Use as a dry seasoning or make into a paste using a little oil, butter, water, coconut milk or vinegar-perhaps you would prefer to use it in tea or soup
Popular Q&A
What is the best recipe for pumpkin soup.
Spicy Pumpkin Soup Recipe- Ingredients 4 Tbsp unsalted butter 2 medium yellow onions, chopped 2 teaspoons minced garlic...MORE?