Butter cake Recipes Without milk

–
by Yang,
5.0stars
Thank you so much for the simple recipe. I managed to bake 8 cup cakes using half of the portion…
Butter Cake Recipe
Butter Cake – BEST-EVER rich, loaded, sweet, extremely buttery butter cake. The only butter cake recipe you need, must try
Ingredients:
2 sticks (total of 225g) unsalted butter, at room temperature
7 oz (200g) plain flour/all purpose flour
1 tsp baking powder
7 oz (200g) castor sugar
4 eggs
½ tsp salt
4 tablespoons fresh milk or yogurt
1 teaspoon vanilla essence
Method:
1. Preheat the oven to 375°F.
2. Lightly grease the pan (loaf pan, mini loaf pan, 8×8, or 9×9) with some butter.
3. Mix the flour and the baking powder together and sieve. Add in salt and mix well. Set aside.
4. Use an electronic beater to mix butter and sugar until well combined or pale yellow in color. (Note: Sugar has not dissolved yet).
5.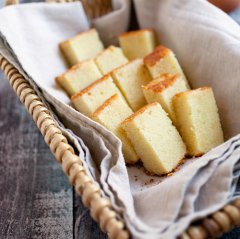 Add in the first egg. Beat well after each addition of egg until creamy.
6. Scrape down the sides for even mixing.
7. Add in vanilla essence and mix well.
8. Fold in the flour into the mixture and mix well.
9. Finally, add in the milk/yogurt.
10. Pour the mixture into the greased baking pan. Shake it lightly to distribute cake mixture evenly.
11. Bake until golden brown and cooked, about 40 minutes. Use a cake tester to test if it's cooked.
12.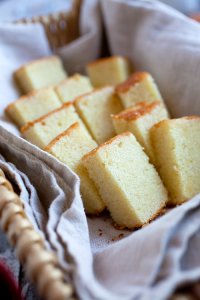 Remove it from the oven and let cool on the wire rack for another 5 minutes. Serve warm.
Butter Cake pictures (1 of 6)
(This is the BEST butter cake recipe ever. Updated with new photos. Originally published in 2008.)
I love baking cakes; I find it rather easy, well, if I choose a simple recipe. I especially enjoy baking cakes in the weekends because nothing tastes better than a cup of hot coffee with a freshly baked cake—while I read through my magazines or newspaper on a Sunday morning. And then, on Monday, I can heat up my leftover cake in the microwave for 10 seconds and have myself a nice breakfast to beat my Monday blues and start off my hectic work week on the right foot. I love cakes, and now I love baking them.
One of the cakes I absolutely love is butter cake–plain old simple but always good butter cake. It calls for really common ingredients that everyone has in their fridge or pantry, and that totally fits my bill in terms of convenience.
More