Funnel cake recipe without milk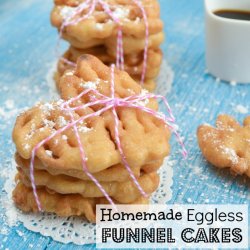 By Natashalh
Ahhh, aren't funnel cakes true love? A hot, fresh funnel cake covered in sugar and cinnamon is such an amazing treat, in part because it's usually such a rare occurrence associated with fun fairs and festivals. I've managed to miss attending the fair for several years and was recently struck by an urge to eat funnel cake. I'd tried making some of my own a few years ago, but they'd been really, really eggy and not that appetizing, so this time around I decided to eliminate the eggs and steal a trick from pancake batter. The result was amazingly delicious, beautifully puffy, perfect for topping funnel cakes that are both egg and dairy free. I made them miniature and heart shaped for Valentine's Day, but you can make them any shape and size you'd like!
Making funnel cakes does not require a funnel. In fact, I think working with a funnel is pretty annoying. You can use a squirt bottle, like the type of bottle people use for dispensing pancake batter, a ziplock bag with the corner cut off, or just a well washed repurposed container. I really throughly washed an old mustard bottle and it worked just fine! The cut off bag is kind of a last resort option, in my opinion, because it's very difficult to stem the flow of batter.
This recipe makes about two dozen mini funnel cakes, but the exact amount of funnel cakes you'll get depends on your cookie cutter size (or if you're using one, at all!). If that's too many to contemplate eating at once, the bater keeps for 2-3 days in the fridge when stored in an airtight container. The funnel cakes I made on day 3 were just as tasty as the ones from the first day!
My experience was trying to freestyle make funnel cake hearts was not very successful, but you don't have to use cookie cutters to enjoy this recipe! It makes perfectly good funnel cakes of all sizes and shapes, so don't let a lack of cookie cutters stop you. I simply liked the shape for Valentine's Day and enjoy the smaller version of the funnel cake because it doesn't leave me feeling like I have to run 10 miles after coming out of a food coma! I got my metal heart cookie cutters on Amazon because I couldn't find any that were all metal and large enough in my local stores.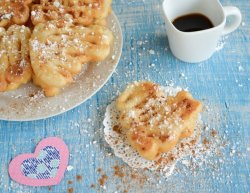 Homemade Mini Funnel Cakes
Prep time:
Total time:
1½ cups of flour
1 tablespoon of baking powder
¼ cup of powdered sugar
1 teaspoon of cinnamon
1½ cups of almond milk
1 tablespoon of lemon juice
1 teaspoon of vanilla extract
Combine the flour, baking powder, sugar, and cinnamon in a medium bowl and whisk to combine.
Whisk the milk, lemon juice, and vanilla together in a separate bowl.
Add the wet ingredients to the dry ingredients and whisk to combine, making sure to leave tiny lumps, just like with pancake batter. Allow the batter to rest for about 10 minutes.
While the batter is resting, pour about 1 inch of oil into a large, heavy bottom skillet. Place your metal cookie cutter in the oil and make sure you have enough oil to mostly fill the cutter without completely immersing it.
Heat the skillet, with the cookie cutter inside, over medium-high until it is shimmering and hot. You can test it by dropping a small amount of batter into the oil. It should sizzle slightly and float quickly.
Pour the batter in the cookie cutter in a zig-zagging pattern. Make sure you don't completely fill the cookie cutter with batter! I like to zig-zag in one direction all the way across the heart and then do a couple of strips back across the other way to hold the funnel cake together.
Allow the funnel cake to cook for about 1 minute and then carefully remove the cookie cutter with tongs. The funnel cake should have popped bubbles on the upper surface, like a pancake, and be able to hold together without spreading once you remove the cookie cutter. Reposition the cutter in the oil in the oil and pour a new funnel cake.
Once the under side of the first funnel cake is golden brown, about 60-90 additional seconds, flip it and cook until the second side is golden brown, about one minute more.
Place finished funnel cakes on paper towels to drain.
Continue making small funnel cakes - my pan can hold up to four at a time - until you've cooked enough!
More
Baby Food Storage, Homemade Baby Food Storage, Baby Food Storage Containers to use as a Baking Mold or Freezer Tray. Adorable 3 Oz. Praline Shapes Available in Four Colors by Silicandy
Baby Product (RSB Innovations)
SAFE FOR YOUR FAMILY. Made of 100% pure FDA approved professional food grade silicone, chemical-free. OVEN, DISHWASHER, and FREEZER safe from -40*F - 460*F
SAVE MONEY ON COMMERCIAL BABY FOOD preparing in bulk and freezing in advance! Each cavity will hold approximately 3 Oz.
MAKING MOM AND DAD S LIFE EASIER- Flexible non-stick silicone tray and lid make the tray super easy to work with. Baby s food will pop right out directly from the...
FUN ADDITION TO YOUR KITCHEN!-Can be used for multiple confections including Breast Milk mixed with Baby cereal, Yogurt and Fruit pops, baking cupcakes for the older...
CHOCOLATE COLORS! Available in 4 detailed chocolate praline colors, collect them all!
Popular Q&A
Where can one find funnel cake recipes?
Funnel cake are usually severed at festivals or parties which is why it is not found in most home recipe books. But there are many online recipe sites that provide step by step instructions for how to make funnel cakes.