Pumpkin pie recipe without milk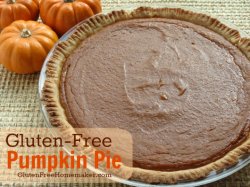 It's been a few years since I posted this gluten and dairy free pumpkin pie, and with Thanksgiving right around the corner, I thought it was time to bring it back. It is delicious! If you're grain free, use a grain free crust or bake the pie filling in the pie dish without any crust–you still get all that great pumpkin pie flavor.
I avoided making pies for many years, but last year was a breakthrough for me. I learned to make gluten-free pie crust and fresh pumpkin puree. I shared my gluten-free pumpkin pie last Thanksgiving, and everyone loved it.
This fall when I went dairy free, pumpkin pie was one of the first things I thought about missing. For some reason I thought it would be really difficult to replace the evaporated milk in the pie and the butter in the crust. How silly of me.
The other night we had a very early dinner, so afterwards the kids asked if I could make a dessert for later. I responded with, "I could make a pie." You should have seen their eyes light up! When I told them I had a pie pumpkin that I needed to use, they weren't as excited. Pumpkin pie wasn't their first choice, but it was all I had to work with. Plus the fact that I had been wanting to try a dairy free version. I'll tell you what they thought of the pie in a minute.
First, I needed a dairy free pie crust. I could have used my gluten-free pastry dough recipe that I recently used for a breakfast pie. It worked well dairy free, but I really wanted to try my first pie crust recipe. When I started making it, I realized it calls for a little bit of millet flour. I didn't have any on hand, so I decided to use sorghum flour instead. In place of the butter I used Spectrum organic shortening (non hydrogenated palm oil). The crust was pretty good, but the sorghum flour made it drier and more crumbly. Next time, I'll definitely go back to using millet flour.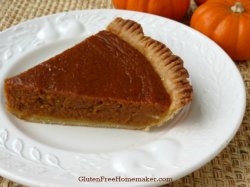 Next, I needed a substitute for evaporated milk in the pie filling. I thought coconut milk would work well, but my pickiest son thought I should use almond milk. He doesn't dislike coconut milk, but he doesn't like coconut flavor in just anything, and he would be able to taste it. The original recipe called for 1 cup evaporated milk, but I only used 3/4 cup almond milk. Instead, I used 1/4 more pumpkin puree. Otherwise, everything was the same.
The pie baked beautifully. This time I put foil on the edge of the crust to keep it from browning too much. The result was a very delicious pie that we finished off in one evening. In fact, the kids who were not so thrilled with pumpkin pie both commented on how good the pie actually was. I think they forgot how much better pumpkin pie is when made with fresh pumpkin puree.
(affiliate link) is a very practical guide to getting started on a gluten-free diet. Learn to successfully buy gluten-free food, supplements, and personal care products as well as eat out safely, cook, connect with others, and more. Learn more about How to Be Gluten Free
More
Low Carb Evaporated Milk Mix - LC Foods - All Natural - High Protein - Low Lactose - High Calcium - No Sugar - Diabetic Friendly - Low Carb Milk - 4.9 oz
Grocery (LC Foods Corporation)
Low Carb - All Natural - Gluten Free - No Sugar - Diabetic Friendly
All Natural Ingredients
Per 1.5 tsp: 0 Net Carbs
Manufactured in the United States
Includes: 1 - 4.9 oz Mix