Pumpkin pie recipe with milk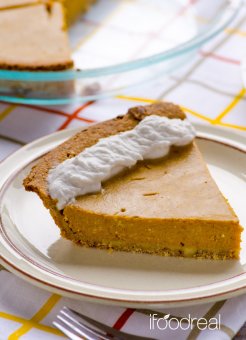 Hands down, this is the best healthy pumpkin pie I ever had! It is quite easy to make delicious pie with a bunch of butter, flour and sugar. But when it comes to a clean dessert, it's a challenge. I was up for it, although scared to death.
In the last 3 days, I made 3 pumpkin pies. That's why I want you to close your eyes and pretend you can't see those small white dots of cream cheese. It was experiment #3 and a thought of making pumpkin pie #4 was terrifying for me. Not for Alex though. Kids do not eat pumpkin pie. BTW, you don't need cream cheese.
I never made pumpkin pie in my life. Reasons:
#1. I'm from Ukraine. Ukrainians do not make pumpkin pies. They make cakes, apple pies, perogies, borscht but not pumpkin pies. After 13 years in Canada, I thought it was time to fit in. At the Thanksgiving table.
#2. For me, pumpkin pie must have a flaky/crumbly crust, not a chewy one. I had no idea how to do that without butter and, honestly, was terrified to death to try. Healthy baking is scary! I don't want to be eating tofu pumpkin pie (sorry my vegan friends, just not for me, but I love tofu) and at same time no Pillsbury dough is allowed in my house.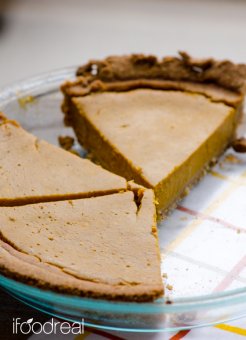 Well, IT'S NOT THAT HARD AT ALL! Easy, peasy. Thanks to Mr. Google, Olena's creative brain, like add cream cheese to pumpkin pie filling creative, and eating assistant, Alex, and not-eating pumpkin pie assisting kids. 2 nights me and Alex were fighting over a piece of pumpkin pie. For real.
First try, it was just gone by the night #2 and we had only 1.5 piece left. That's a problem right there. Third try, that you are looking at, I cut out 1 piece to share and the rest had to wait until the next day, for photos. Only in food blogger's house, the husband asks if he is allowed to eat. Anything. Even plain broccoli has it's pre-defined destiny.
But we managed and we are still married.
So, about the pie. The crust was perfectly crumbly. Just like I wanted. Mixing wheat flour with ground almonds makes the crust "flaky" and at same time helps it to stay together. White whole wheat or just plain whole wheat flour would work. I ground almonds myself in a Magic Bullet. You can use store-bought almond flour. Even better. The crust will be easier to work with. Pre-baking the crust is a must. It won't bake through under all of that moist pie filling.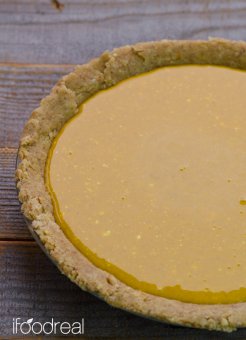 The filling was out of this world. I slightly adapted it from The Gracious Pantry. Thanks, Tiffany! I used less almond milk because I like solid pumpkin pie. Otherwise, it's delicious! So clean and made of simple ingredients. In fact, I'm devouring a pumpkin pie slice for lunch, as I type. No guilt whatsoever. And I'm not scared of a fat content. It's healthy almond and coconut oil fats, in moderation. I prefer them over Pillsbury dough scary ingredients and bleached white flour. 0 cholesterol, people!
The filling will be runny, that's OK. It will solidify perfectly as it bakes and after cooling. You can buy pumpkin pie spice or I learnt to make my own from sweet Kelli of The Corner Kitchen. Also, you can just use 1 tsp of cinnamon and 1/2 tsp of nutmeg. I served it with whipped coconut cream & a bit of stevia. Enjoy!
Ingredients
For the Pie Crust:
1 cup almond flour (meal) or finely ground almonds
1+1/2 cup (white) whole wheat flour + more for dusting/rolling
1/4 cup coconut oil, melted
3/4 cup almond milk, unsweetened
1/8 tsp salt
Coconut oil (cooking) spray
For Pumpkin Pie Filling:
1/2 cup egg whites
15 oz can (2 cups) pumpkin puree (not pumpkin pie filling)
1/2 cup almond milk, unsweetened
1/2 cup agave nectar or honey
1/2 tsp pure vanilla extract
1+1/2 tsp pumpkin pie spice
1/4 tsp salt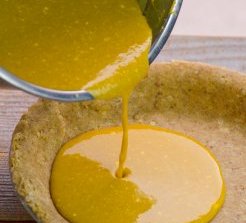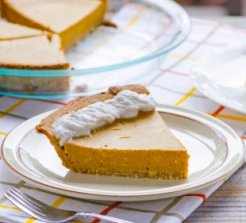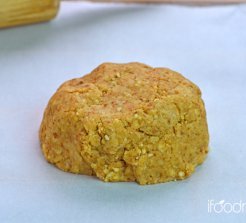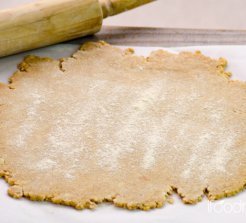 More
Popular Q&A
What can i use in place of sweetened condensed milk in a recipe?
Own by slowly simmering any quantity of milk in a pan until it reduced by 60%, and then adding the sugar. Obviously this is a tedious process. Sweetened condensed milk has a long shelf life, so pick up one or two cans on your next trip to the market