Almond milk custard recipe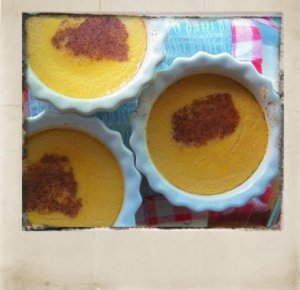 The toughest thing about eating Primal has nothing to do with dessert. Especially not when this little custard cup is so delightfully in tune with the Primal lifestyle and all its nutritive guidelines.
I must admit how I've missed, a little bit, the crusty, flaky sweet-filled stuff of cakes and pies and cookies ever since switching to the eating habits of Grok. But this eggy last course, which combines the best parts of all my favorites – the sweetness of a cookie, the texture of a chilled cake, the satisfying warm flavor of a gooey brownie or buttered scone, ends the yen. It's a bit of an in-between dessert; not quite the high-carb, sugar shock item that once came with trips to the Jewish bakery or Dairy Queen – those summer after-dinner memories! – but more of a cheesecake, a flan, or even, when frozen, a sweet and delicate Italian ice that tastes a little bit like egg nog.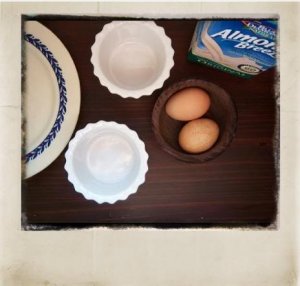 The recipe is remarkably easy. All it takes is a little attention to detail, a patient oven-bake, and if you want a cool dessert, a little refrigeration. Six little dessert cups later, you will be scraping and scraping the bottom of the dish, licking your spoon and fingertips.
To make six servings of Primal custard, you need:
5 eggs
2 teaspoon vanilla extract
2 cups Original flavored almond milk
12 teaspoons (1/4 cup) light blue agave syrup* (or honey)
ground cinnamon or nutmeg
six petit creuset pots or other small stoneware dishes
Preheat oven to 325 degrees Fahrenheit.
In a saucepan, combine the milk and agave syrup. In another saucepan, heat 1-2 cups of water. Bring both pans to a simmer. Remove the milk and agave from heat. Lower the heat on the water and keep it warm.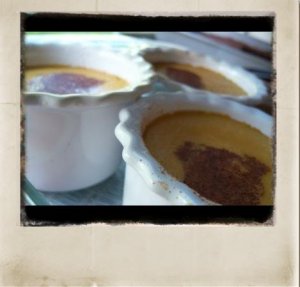 In a medium bowl, whisk together the eggs and vanilla until yolks are very smooth, about 3 minutes. Add the warm milk and syrup to the eggs, whisk together until well combined.
Using a sieve, pour egg mixture so it evenly settles in each dessert cup. Make sure to use oven safe dishes.
Place dessert cups in a baking dish big enough so the dessert cups don't touch one another. Pour hot water from the warm saucepan into the baking dish so that it comes up to the level of the custard on the outside of each individual dish. This water is to prevent the custard from burning. This step is very important.
Slide the pan into the oven and bake until custards are set around the edges, about 40 minutes. Allow custards to further set by refrigerating for at least 2 hours. Or serve them right away, warm.
More
Lobo Agar Dessert Mix Almond Flavour for 4-6 Servings 130g. (4.55oz ) Pack of 3


Grocery (Thailand)




Lobo agar dessert almond flavour, makes for 4-6 servings.
Simply delicious dessert with fruit salad or fresh fruits, good health for break time or party.
Ingredients: Sugar, Non-dairy Creamer, Agar-Agar, Artificial flavors.
Allergen Information: Contains milk.
The product sold and shipped by Okane shop, Thailand.