Almond milk Chai recipe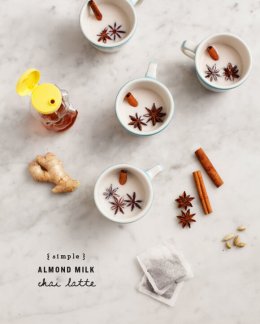 For years, I had a very routine "breakfast" that I would pick up on my way to work: a double tall soy latte at 110 degrees. (I know, I was one of those coffee-orderers). These days, I've swapped my beverage breakfast for a real one, my expensive coffee for tea, and my soy milk for almond milk.
Although I now work from home, I still love to get a quick start in the morning. Which is why I'm so excited about this recipe – this latte is SO simple and is made up of ingredients from my spice drawer which makes me wonder how I ever got into the $5-a-day coffee habit to begin with.
If you've read this blog for long, you know that Almond Breeze is my go-to almond milk. (We've been drinking it for years, long before we were taking pictures of it). This year we're partnering with them on a series of "Grab & Go" posts. I know so many of you are always looking for recipes to take to work so each month we're going to feature a simple no-fuss recipe for those of you on the, well, go.
Obviously, you could just buy chai tea in a package, but I think there's a special flavor that comes from using the whole spices. Plus, this way you can customize your beverage to use your favorites. I used a mix of cinnamon, star anise, cardamom and a knob of fresh ginger. (All spices that are somewhat large because I didn't want to have to strain it). Let it steep with a plain black tea packet, steaming hot almond milk and there you have it – a simple yet sort of fancy desk drink.
Almond Milk Chai Latte
Author: Jeanine Donofrio
Recipe type: beverage
1 black tea bag
2 whole star anise pods
2 cinnamon sticks
4 dried cardamom pods
optional: ½ inch knob of fresh ginger
optional: sweetener (maple, honey, stevia, etc) to taste
Place 1 black tea bag and a few whole spices into a mug.
In a separate mug, heat the almond milk in the microwave for 1-2 minutes. Pour steaming almond milk into spiced-tea mug and steep for 5 minutes.
Remove the tea bag and let the spices steep for 5 more minutes. (The longer they steep, the more flavorful your drink will be). Taste and add sweetener if you like. Scoop out the spices (or just drink around them).
note: whole peppercorns are a nice addition, if you're steeping and straining your tea. If you don't want to strain anything, skip em.
More
Gourmet Foods Gift Baskets, Oh Baby, Surprise Mom and Her New Baby Boy with This Precious Gift. The Plush Baby Elephant and Soft, Cloth Blocks Are Perfect for Small Hands. A Piggy Bank, Lily O'brien's Chocolate Chip Cookies, Peanut Crunch, Biscoff Cookies, Chocolate Caramels, Walnut Cookies, Tazo Organic Chai Tea and a Fresh Elephant Honey Vanilla Cookie Will Let Them Know Just How Much You Care. Gift Size: 10" X 7" X 11" .


Single Detail Page Misc (WC001)



Gourmet Foods Gift Baskets, Starbucks and Tazo Eye Opener, There Is No Need to Travel for This Authentic Starbucks Coffeehouse Experience. Bold, Smoky French Roast Ground Coffee and Lively, Well-balanced House Blend Are Nestled Alongside Tazo Teas Including Organic Chai, Zen Green, Awake Black and Organic Darjeeling Tea, Two Selections of Hot Chocolate: Peppermint and Double Chocolate, Starbucks Selects White Chocolate Raspberry Cookies and Two Starbucks Coffee Mugs in a Bamboo Basket. Gift Size: 11" X 8" X 11".


Single Detail Page Misc (WC001)



Gourmet Foods Gift Baskets, Tea Time, Any Tea Lover Will Appreciate This Thoughtful Gift. A Blue Ceramic Teapot Is Surrounded By Ahmad English Tea Number 1, English Breakfast Tea and Tazo Organic Chai, Lily O'brien's Chocolate Chip Cookies, Biscoff Cookies, Sugar Stick, Almond Cookies, Lily O'brian's Chocolate Chip Cookies, Dried Fruit and Nut Mix, Monica's Brownie Cookies and Walkers Shortbread Cookies Complement These Teas. A Great Gift for Home or Office. Gift Size: 11" X 7" X 10" .


Single Detail Page Misc (WC001)