Dessert Recipes using sweetened condensed milk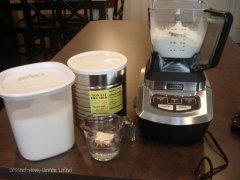 So I feel so stupid for not having known for so long, that making your own sweetened condensed milk is super easy, & delicious. I hate how expensive one store-bought can, can be sometimes & I don't usually have it on hand. But, thanks to food storage, I usually have powdered milk on hand. This recipe is so EASY, seriously. You will never buy another can of this stuff ever again.
Before you say, "Oh I found another method of doing this, " forget about it. Do it this way for sure, because when I first learned you can make your own at home, the recipe I tried had you whisk it in a pot over the stove, & it was always super lumpy & I was miserable trying to make it work. I am so glad I found out about the blender method!
After you have whipped up your super easy sweetened condensed milk, try making some Caramel Pretzel Magic Bars or Lime Pie. Happy Baking!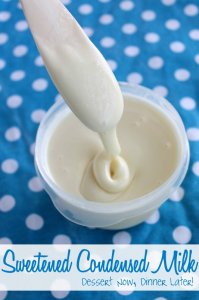 Sweetened Condensed Milk
Yield: 1½ cups (One 14oz store-bought can is equal to 1¼ cups)
Ingredients
1 cup sugar
1 cup dry powdered milk
½ cup water
1 Tbsp butter
Instructions
Put sugar & powdered milk in a blender.
Put water & butter in a large microwaveable dish & let it come to a boil in your microwave; about 45-60 seconds. Keep an eye on it.
Add HOT water/butter mixture to mixer & blend until sugar dissolves. Scrape the sides if you need to & blend again.
The sweetened condensed milk will thicken more as it cools. Stays good in the fridge for 7-10 days.
Notes
© DESSERT NOW, DINNER LATER! All images & content are copyright protected. Please do not use my images without prior permission. If you want to republish this recipe, please re-write the recipe in your own words, or link back to this post for the recipe.
Popular Q&A