Dessert Bars Recipes with sweetened condensed milk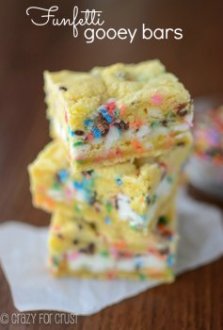 These Funfetti Gooey Bars are the best gooey bars ever! Made with a cake mix and a few simple ingredients, they are gooey to the max!
I don't make the same thing twice very often. Almost never, in fact. I mean, when you're surrounded by sugar all day every day, most of it new recipes that you can post, the last thing you need (or want) is to make another batch of cookies. Some of my favorite repeats that I've posted on this blog (and boy, do I need to update some of these photos!) are:
So see…even if I do make something twice…it's often with a new variation. A new frosting flavor, or a new filling.
I have issues, and my daughter often asks for "plain cinnamon rolls" or "just a chocolate chip cookie" and my eyes cross.
I have one more recipe to add to this list: Funfetti Gooey Bars.
I made them twice. In ONE WEEK. That's how good they were.
I made the first version and never even photographed them. They came out of the oven and we were super busy that afternoon, and by the next day the pan looked like a fork had attacked it.
Ahem.
So I remade them again. Because I had to share them with you.
These are my favorite gooey (cake) bars ever. They're actually the first ones I made, before the Healthier Chocolate Gooey Cake Bars. But my friend Heather at Heather's French Press made some Cake Batter Gooey Bars the same week I made mine. Hers were so fabulous, I had to wait to post a little while. Then I forgot.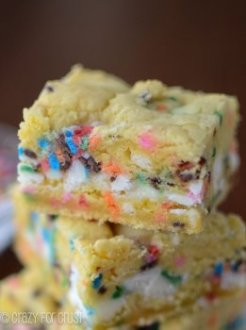 Story of my life.
These bars start with a yellow cake mix. You mix that with an egg and some butter. The batter is layered with white chocolate chips, sprinkles, and half a can of sweetened condensed milk. If you use a whole can they are too gooey…hence the fork in the first batch.
These are funfetti to the extreme. Cake batter gooeyness. I need to make them again. YOU need to make them.
I've also made a lemon version. I didn't photograph them. I guess those are going on the remake list too!
Aren't you lucky to have found me? 😉
Funfetti Gooey Cake Bars
These Funfetti Gooey Bars are the best gooey bars ever! Made with a cake mix and a few simple ingredients, they are gooey to the max!
Ingredients:
1 yellow cake mix
1 egg
2/3 cup sprinkles, divided
1/2 cup (from a 14 ounce can) sweetened condensed milk
1 cup white chocolate chips
Directions:
Preheat oven to 350 degrees. Line a 9x9" pan with foil and spray liberally with cooking spray.
Add cake mix, butter, and egg to the bowl of an electric mixer fitted with a paddle attachment. Mix until a thick dough forms. Add 1/3 cup sprinkles and stir until incorporated.
Press about 2/3 of the dough into the bottom of the prepared pan. Sprinkle with white chocolate chips and remaining 1/3 cup sprinkles. Pour sweetened condensed milk over the top. Separate remaining dough into small balls and evenly space over the top of the bars. Press down to flatten.
Bake bars for about 30 minutes, or until they just begin to brown. Cool completely before slicing, otherwise the mixture will be too gooey to cut. Optional: eat straight from pan with a fork.
© Crazy for Crust. All images & content are copyright protected. Please do not use my images without prior permission. If you want to republish this recipe, please re-write the recipe in your own words, or link back to this post for the recipe.
Other bars you might like:
Sweets from friends:
Carmelitas by The Recipe Critic
Espresso Chip Cookie Dough Bars by Beyond Frosting
More
Popular Q&A