Bars Recipes with sweetened condensed milk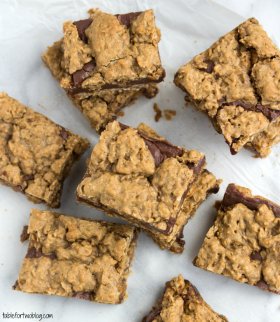 sweetened condensed milk (I used Eagle Brand)
⅓ cup butter
1 tsp. vanilla extract
2 cups semi-sweet chocolate chips
Preheat oven to 350 degrees. Line baking pan with parchment paper so that it overhangs on both sides for easy removal
In a large bowl, add flour, baking soda, salt, and cinnamon. Whisk to combine. Set aside.
In the bowl of a stand mixer fitted with the paddle attachment, cream together butter and sugar for 2 minutes until light and fluffy. Then add in the eggs and vanilla extract and beat for 2 more minutes. Gently pour the milk in and beat until incorporated.
Slowly add in the flour mixture and mix until all combined and well-incorporated. With the mixer on low, add the rolled oats. The mixture will be thick so if the stand mixer can't get it all, use a spatula to get it all incorporated.
In a saucepan over medium low heat, add all the ingredients of the filling to the pan. Once everything has melted together you can start assembling the bars.
Spread about ⅔ of the cookie mixture in the bottom of the baking pan (I used my hands and pressed it down). Then take the chocolate mixture and pour it over top of the cookie mixture. Take the remaining cookie mixture and drop it in small dough balls over the chocolate mixture (it's ok if it's not perfect, they bake out and spread).
Bake for 25 minutes. If the tops start to get overly brown, cover with foil and continue baking.
Let cool in baking pan COMPLETELY before you cut them into squares. Everything will be too gooey and loose if you don't let it set up.
More
Bob's Red Mill Non Fat Dry Milk Powder, 22-ounce


Grocery (Bob's Red Mill)




One, 22 oz. bag (1.375 lbs.)
Vegetarian; Kosher Dairy
No added hormones
Easily reconstitutes with water for liquid milk. Just whisk or blend Dry Milk Powder with water in a 1:7 ratio (powder:water)
Stores up to two years
Popular Q&A
What is the recipe for maple sugar pie?
You will need pie dough, 1 cup walnuts, toasted and coarsely chopped, 3 large eggs, 1 cup maple syrup, 1/4 cup unsalted butter, melted, 1/2 teaspoon vanilla extract, 2/3 cup packed light brown sugar and 1/8 teaspoon salt. Arrange oven rack in middle position and top with heavy baking sheet. Preheat oven to 425 degrees F. On lightly floured surface using lightly floured