Brownies recipe with sweetened condensed milk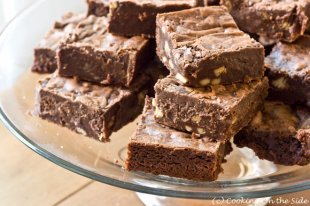 Happy New Year! I'm excited to resume blogging over here on Cooking On the Side after my little holiday hiatus. Even while we were away for a week in Scottsdale, Arizona I still couldn't keep myself out of the kitchen. I made a pretty pink birthday layer cake for my mom, chocolate cupcakes for my baby son (he's already 1!) with little candy Nemo clownfish on top, and a broccoli casserole to accompany my mom's prime rib on Christmas Day. Vacation is a time to relax, and for me cooking is my favorite way to unwind.
I debated whether to post this brownie recipe now, during the first week of the new year. I know this is a time when a lot of people start trying to eat healthier (I should be one of them, but so far it's not happening). At first I thought that photos of super-rich, gooey brownies – from a recipe on the back of the See's chocolate chips package – would be the last thing someone on a new regimen would want to see.
But then I thought, "Hey, it's just pictures!" If brownies brimming with a pound of brown sugar and half a pound of butter aren't on your diet, you can at least look at them and it won't cost you any calories. Go ahead and bookmark this one for the next bake sale or potluck – you can always sneak one for yourself (I won't tell) and give the rest away.
Gooey Brownies
From the See's Gooey Brownies recipe on the back of the See's Semi Sweet Chocolate Chips package
Makes 24 large brownies
INGREDIENTS:
16 oz chocolate chips*
1 can sweetened condensed milk
2 sticks (1/2 lb) plus 2 tablespoons butter, divided
1 lb (2 1/2 cups packed) brown sugar
2 eggs
1 teaspoon vanilla extract
2 cups all purpose flour
1 teaspoon salt
3/4 cup pecans or walnuts, chopped (optional)
DIRECTIONS:
In a medium saucepan, melt chocolate chips, sweetened condensed milk and 2 tablespoons butter over low heat while stirring. Remove when melted and cool slightly.
In a small saucepan, melt remaining 1/2 lb of butter, stir in sugar. Add to chocolate mixture. Beat in the eggs one at a time. Stir in vanilla, flour and salt. Fold in nuts (optional).
Turn mixture into a lightly oiled 13 x 9 x 2 inch baking pan. Bake at 350°F for 30-35 minutes. Do not over bake.
* While the See's semi sweet chocolate chips package comes in a 16 oz size many other brands (e.g., Ghirardelli, Nestle Toll House) come in 12 oz, so be sure to check the package to make sure you've got enough.
More
French COCOA POWDER 1 LB By Morning Pep Dark and Rich USDA certified ORGANIC by NFC, NATURAL , Unsweetened Raw NON GMO (16 OZ) Nice Resealable Stand Up Pouch Bag


Grocery (Morning Pep)




INGREDIENTS: USDA certified Organic raw Unsweetened cocoa powder
BENEFITS: Kosher , non-gmo , gluten free USDA certified Organic and suitable for vegans
MORNING PEP COCOA POWDER DIFRENTS: Dutch Processed Alkalized for quick and easy dissolving in COLD and hot water
NUTRITIONS: Rich in antioxidants , dietary fiber , iron , manganese , magnesium , zinc , and essential vitamins and minerals
PACKAGING: Morning Pep DARK CACAO POWDER is Packaged in nice convenient RESEALABLE stand up pouches to preserve freshness and purity

Morning Pep French Cocoa Powder 5 lb USDA Certified organic by NFC, Natural, Unsweetened Raw Dark Rich Non GMO(80 oz bulk) Nice Resalable Stand Up Pouch Bag, X-Large


Grocery (Morning Pep)




Ingredients: USDA certified organic raw unsweetened cocoa powder
Benefits: kosher , non-gmo , gluten free USDA certified organic and suitable for vegans
Morning Pep cocoa powder different: Dutch processed alkalized for quick and easy dissolving in cold and hot water
Nutrition s: rich in antioxidants , dietary fiber , iron , manganese , magnesium , zinc , and essential vitamins and minerals
Packaging: morning pep dark cacao powder is packaged in nice convenient resalable stand up pouches to preserve freshness and purity