Sugar pie recipe with Carnation milk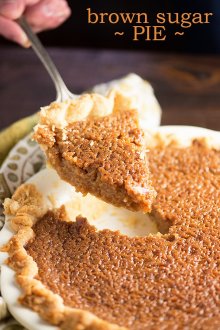 Happy Turkey Week, my friends.
Or, as it's known in my house, Happy Side Dish Week.
I mean, turkey is fine. It's whatever. I like the crispy skin pieces and a little white meat never hurt anyone, but let's be real for a moment. My plate is going to be so overflowing with side dishes that there will be side dishes on top of side dishes and then under that will be more side dishes.
I like side dishes.
I'm not certain that side dishes is even a thing anymore now that I've repeated it over and over. Also, why in the name of Bieber am I talking about side dishes today? Today I am here to share with you a pie recipe. But not just any pie recipe! No. A motha-lovin' brown sugar pie recipe. With cinnamon. Because cinnamon.
Yeah. If you've never heard of brown sugar pie, it's okay. You're not alone. It's not as popular as, say, apple cranberry pie. Or even buttermilk pie. But it is every bit as delicious and just as easy.
I made my own crust for this, as usual, because homemade pie crust is my jam. I use my food processor to keep it simple (if you're looking for the perfect gift for someone, a food processor is almost always the right answer, guys. I use mine daily to grate cheese, shred veggies, make pastry dough, grind nuts, slice potatoes, etc. and etc. and etc.This is the one I have – reasonably priced and tons of 5 star reviews!)
You can use store bought crust if you really want to, but I think you should give my homemade version a try. It's always getting compliments and it's actually quite easy. I've yet to screw it up. 😉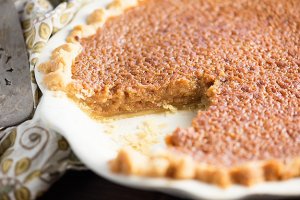 As for the filling, it's an ultra rich and sweet concoction of butter, milk, brown sugar, a dash of cinnamon, and a bit of flour. You toss it all in a pan and cook until it thickens up. It's really a simple pie, but oh man, it's good. A bit similar to a pecan pie without the nuts and with more brown sugar flavor.
Hope you guys love this one as much as we do!
Brown Sugar Pie
Yield: serves 8
Prep Time: 30 minutes
Cook Time: 30 minutes
Total Time: 1 hour
Ingredients:
For the pie crust:
1-1/2 cup butter flavored shortening (butter works, but not as well)
3 cups flour
1 teaspoon salt
pinch of white sugar
1 egg, beaten
5 tablespoons cold water
1 tablespoon vinegar
For the filling:
2 cups brown sugar
6 tablespoons flour
12 ounces evaporated milk
4 tablespoons butter
2 teaspoons cinnamon
1/2 teaspoon salt
1 tablespoon vanilla
Directions:
To make the crust, dump the shortening, flour, salt, and sugar into a large bowl and work it together with a pastry cutter until you have coarse crumbs. Alternately, combine this in a food processor fitted with the dough blade.
Pour in the egg, water, and vinegar and stir until just combined. If using a food processor, pulse until just combined, being careful not to overmix.
Seperate into 2 balls of dough and place in ziploc bags. Flatten into round discs. Refrigerate for 30 minutes.
Roll one disc of dough out on a floured surface to fit a 9 inch deep dish pie plate. Store remaining disc of dough in the freezer for another use.
To make the filling, whisk together the brown sugar and flour in a small saucepan.
Turn heat to medium and whisk in the evaporated milk, butter, cinnamon, and salt. Continue cooking, whisking constantly, until the butter has melted and the mixture is fully combined and begins to boil.
Continue whisking and let come to a full boil for one minute. Mixture should begin to thicken to the consistency of a gravy.
Remove from heat and stir in the vanilla.
Pour mixture into prepared pie crust and bake at 400 degrees for 5 minutes.
Reduce oven temperature to 350 degrees and continue baking for 25 minutes.
Cool on the counter for at least 2 hours before cutting and serving.
More
Bob's Red Mill Non Fat Dry Milk Powder, 22-ounce


Grocery (Bob's Red Mill)




One, 22 oz. bag (1.375 lbs.)
Vegetarian; Kosher Dairy
No added hormones
Easily reconstitutes with water for liquid milk. Just whisk or blend Dry Milk Powder with water in a 1:7 ratio (powder:water)
Stores up to two years